INTERVIEW: Pierre Haski discusses press freedom, the future of RSF
France-based Reporters Without Borders (RSF) president Pierre Haski, in an interview with 'Taipei Times' reporter Stacy Hsu and 'Liberty Times' (sister newspaper of the 'Taipei Times') reporter Lu Yi-hsuan, called for equal access for all reporters, regardless of their nationality, as he urged Taiwanese journalists to bring their exclusion from international events to the attention of a wider audience
Taipei Times (TT): RSF opened its first East Asia representative office in Taipei last year. What is your vision for the office?
Pierre Haski: The purpose of the office is not just dealing with Taiwan; it is dealing with the whole region and it operates toward every single country. Now the office is issuing statements and brochures in languages aimed at Japan, [South] Korea and obviously China. It will diversify in the future toward all the languages in the region.
Also, the work of a bureau is to do in-depth studies on the dynamics of a region. For example, everybody is talking about fake news, but each case is different. It is very important to have an accurate perception and facts about what is going on in a region, because you cannot have a generalized speech about fake news worldwide.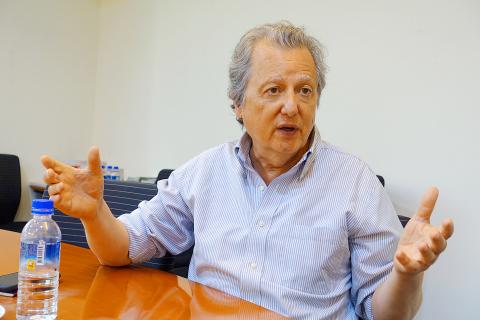 Reporters Without Borders president Pierre Haski gestures during an interview in Taipei on Thursday.
Photo: Lu Yu-hsuan, Taipei Times
Then will come the second phase: support for journalists who need assistance or security training. RSF is organizing regular workshops on digital security, [teaching journalists] how to protect their data and how to communicate without endangering their contacts. This is something we will be introducing with time.
TT: Although Taiwan has been praised for having the best press freedom in Asia, it is not without flaws, such as corporate influence and the political polarization of news outlets. What is your view on this?
Haski: Press freedom is always a relative concept. No one in the world has absolute press freedom, not even the No. 1 country in the classification, which is Norway. There is always room for improvement. You have to compare and Taiwan is better off than the other countries in the region.
I agreed there are flaws and concerns.
One is of global concern, which is the concentration of media in the hands of industrial groups. You have the Washington Post now belonging to Amazon.com. Our recommendation in Taiwan, as in everywhere else, is to have regulations to reinforce independence of the staff within those groups.
The second one is more of a Taiwanese concern, which is Chinese influence. It can be [done] through Taiwanese companies that have invested in China. Maybe they are not directly influencing the newspapers, but are pushing for self-censorship. Self-censorship is probably the worst form of censorship. It is something you have developed within yourself where you know where is the red line, beyond which you are looking for troubles. That is something people should be conscious of and journalists should discuss that because the best way of fighting self-censorship is transparency and openness.
The issue of polarization is a very difficult one, because there are many parts of the world in which there is strong polarization. This polarization is cultural, political, economic and social. You do not solve the problem purely within the media sphere. It is an issue that should be debated within the whole society.
TT: Do you think governments should enact laws to scrutinize big companies trying to take over media businesses?
Haski: I am always suspicious of laws regarding media. It is not that I do not think the media sector should not be regulated. There need to be regulations and they can be protective of the independence of the media. However, there is always the temptation for any government, anywhere in the world, to take a little bit more than is needed.
We have that debate in France now, because the government has introduced a new law against fake news. Part of the law we find legitimate is that the government wants to have transparency in who buys advertising on the big platforms, like Google or Facebook, during election campaigns.
That kind of transparency can only be regulated by law and that is legitimate. The problem in France is what I described earlier: Once they had done that, they went too far because they introduced the possibility for a judge to decide what is fake news within 48 hours. That is impossible and we think it is very dangerous and that may suppress some information.
TT: How do you make sure that when a government uses regulations to crack down on fake news, they are not being used as a political tool?
Haski: I have to point out the word "fake news" is very misleading, because it covers many realities. It covers manipulation of disinformation coming from a foreign power. It has become a global tool of warfare.
Another part is reveries between political parties. That has always existed, but that is different than having a foreign power doing it.
The third part is the lack of literacy with new media. Today with social media, everybody is a journalist in a way, and everybody is sharing information. [There will be problems] if the reader does not [understand the] difference between a Facebook post of his friend and the serious investigation work by a journalist.
We have also seen Web sites that make jokes about the news. If you read it on their Web sites, you know it is fake news. However, there have been cases where people take that and make it into serious news. If you are a 14-year-old kid, how can you know the difference? That is why there should be media literacy class in the school curriculum.
TT: What is RSF doing to tackle the proliferation of fake news?
Haski: One thing RSF has taken the initiative on is called the Journalism Trust Initiative. It started only last month and it is in the process of development.
Our goal is to reward those who make quality journalism. The idea is to develop a norm, or a label, of quality journalism. You have a series of criteria, which are in the process of being listed, that will guarantee that in your newspaper, information is checked and there is transparency about who owns the newspaper.
The media outlet that has this label should be rewarded. The idea is to negotiate with today's main channels for information and have them give the outlet a boost in their algorithm. Today, if you do a Google search, 95 percent of the people will not go beyond the top five results. If you [ensure that] media companies that do quality journalism will be on top of the search, then it becomes interesting for them to do so.
A few of the big advertisers around the world are very interested, because they do not want their quality brand to be associated with fake news. The idea is that their members will also prioritize media with the label for their campaigns. It is a positive circle. It will first be introduced in Europe. If it works, we will propose to do it worldwide.
TT: Taiwan's exclusion from most international organizations has sometimes led to difficulties for Taiwanese reporters, such as the case at this year's World Health Assembly in Geneva, Switzerland. What can Taiwan do to address this issue?
Haski: It is a shame that international organizations would enter that discrimination. I think all journalists should have equal access, whichever country they come from, if they can prove they are bona fide journalists. That should be denounced, because it is not normal, particularly from an organization like the WHO, which deals with public health. We know that health does not have borders.
When something is marginalized, it can be easily killed. If you make it an issue, I think every journalist in the world will agree with the fact that there should not be discrimination.
Comments will be moderated. Keep comments relevant to the article. Remarks containing abusive and obscene language, personal attacks of any kind or promotion will be removed and the user banned. Final decision will be at the discretion of the Taipei Times.