Low on funds, Ko expects tough re-election campaign
Taipei Mayor Ko Wen-je's (柯文哲) new book is No. 1 on the best-seller list of the nation's largest online bookstore and his new personal Line account has gained more than 50,000 followers, but he said he still expects it will be difficult to win re-election, as he lacks resources.
Ko on Thursday evening announced on Facebook that his new book, Taipei: A Proud City With Progressive Values (光榮城市), would be available for online preorder from Friday.
The book discusses Ko's thoughts on governing Taipei and the experiences he has gained over the years since he became mayor.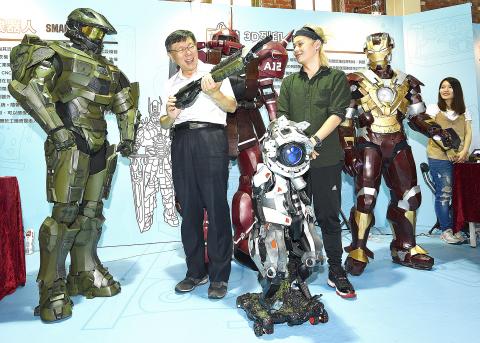 Taipei Mayor Ko Wen-je, second left, yesterday plays with a toy weapon at a 3D printing booth at the Taipei Craftsmanship Exhibition at Huashan 1914 Creative Park. The exhibition closes tomorrow.
Photo: Chen Chih-chu, Taipei Times
As of press time last night, it still topped the books.com.tw list of hot titles.
On Friday afternoon, Ko announced on Facebook that he had launched a "Line@" account (@KPTaipei) as another channel for him to share information about the city government and his personal experiences.
As of yesterday afternoon, the account had garnered 50,000 followers — who can read his posts, but cannot speak with him, about 10 times the followers of Chinese Nationalist Party (KMT) Taipei mayoral candidate Ting Shou-chung (丁守中) and Democratic Progressive Party mayoral candidate Pasuya Yao's (姚文智) accounts.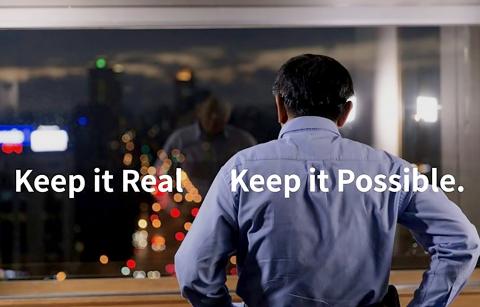 Taipei Mayor Ko Wen-je is pictured in an undated photograph.
Screengrab from Facebook
"Policies need to be communicated, so it is about being practical and having a dialogue — adopting a practical attitude when fulfilling duties and trying to interact with many different people," Ko said.
He said his resources are limited, because he is not supported by a political party or financial group, nor does he have his own foundation.
Asked about his new book reaching the best-seller list, Ko said that people might have been waiting for it.
He had created PowerPoint slides as if preparing to give lectures ever since he decided to write the book, he said.
Ko and his wife have decided to use their home as collateral for an approximately NT$20 million (US$659,914) bank loan to be used toward his re-election campaign this year, he said on Facebook and Instagram yesterday.
"Elections should not only be about treating people to meals or waving flags and shouting, we should use actions to realize our values and beliefs," he said in the post.
Comments will be moderated. Keep comments relevant to the article. Remarks containing abusive and obscene language, personal attacks of any kind or promotion will be removed and the user banned. Final decision will be at the discretion of the Taipei Times.