Land, air forces plan joint drill: officer
A WASTE: The National Audit Office said that the army has not been using TOW missiles for its live-fire drills with AH-1W helicopters, despite keeping stock of them
A live-fire combined arms drill is to be held at the beginning of next month, with the primary focus of improving the army's coordinated combat between land and air forces, a military officer said.
The live-fire artillery exercise would be aimed at seaborne targets, with helicopters also shooting at targets with precision weaponry, the officer said.
While both branches usually hold separate drills, AH-1W helicopters joined the live-fire artillery drill conducted by the 10th Army Corps in September last year to ascertain the actual effects of both branches' weapon systems, the officer said.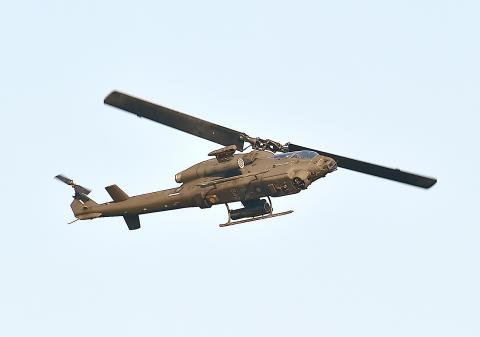 An AH-1W helicopter participates in a drill in Kaohsiung on Aug. 10, 2016.
Photo: Chang Chung-yi, Taipei Times
Whereas last year the helicopters were limited to deploying heat flares as interference, this year they would be firing live munitions against seaborne targets, the officer added.
The army would deploy its heavy artillery and helicopters if enemy forces were to breach Taiwan's naval perimeter and were closing in on the nation's shores, the officer said.
This scenario, and the fact that most modern combat utilizes combined arms, makes it necessary to conduct joint exercises to ensure that airborne and ground weaponry are able to work together, instead of against each other, the officer said.
The drill, codenamed Golden Eagle, is scheduled to be held at Hsinchu County's Kengzihkou (坑子口) on July 4, and would be delayed until July 6 should the weather prove disruptive, the officer said.
While AH-1W helicopters would again be used this year, the army plans to use AH-64E Apache helicopters in the next similar drill, the officer added.
In other news, as of 2010, the army's AH-1W helicopters have not been conducting live-fire drills with tube-launched optically tracked wire-guided (TOW) missiles due to safety concerns, the National Audit Office said yesterday.
The wires guiding the TOW missiles to their targets risk becoming entangled in the AH-1W's rear rotor blades, the office said.
However, the Aviation and Special Forces Command has continued to keep stock of the missiles, which is a waste of facilities, money and manpower, it said, adding that, in response to its request to improve equipment management, the Army Command Headquarters has decided to offer the missiles to ground forces for firing practice.
The headquarters declined to comment on how many of the missiles are in its inventory.
Comments will be moderated. Keep comments relevant to the article. Remarks containing abusive and obscene language, personal attacks of any kind or promotion will be removed and the user banned. Final decision will be at the discretion of the Taipei Times.