Mrs. Mitzi Koo, wife of CTBC Financial Holding founder Dr. Jeffrey L.S. Koo, receives certificate of appreciation from The Juilliard School
Building on the spirit of her husband CTBC Financial Holding Co., LTD founder Dr. Jeffrey L.S. Koo's commitment to people-to-people diplomacy and giving back to society, since 1993 Mrs. Mitzi Koo has provided scholarships to US performing arts conservatory The Juilliard School, to encourage outstanding talent, cultivate potential world-class musicians and elevate Taiwan's profile in the international community. In recognition of her contribution, last month Juilliard awarded Mrs. Mitzi Koo with a certificate of appreciation, making her the first Taiwanese person to have received such a distinction from Juilliard.
Avid music lover Mitzi has been devoted to music for many years. She was instrumental in establishing the Mitzi Foundation in 1993, which has provided scholarships every year for the last 25 years to help outstanding musicians studying at Juilliard School in the US. Many of the previous recipients of the Mitzi Foundation scholarship have gone on to flourish in the international music scene, and include the first ever Mitzi Foundation scholarship recipient, renowned US tenor Anthony Dean Griffey, harpist Jessica Zhou, violinist Michael Larco and British oboist Andrea Overturf. All of these exceptionally talented musicians have gone on to flourish, assisted by the scholarship.
At the same time, Mrs. Mitzi Koo has helped invite and arrange for Mitzi Foundation scholarship recipients to come to Taiwan to perform. Through the initiative, not only have many Taiwanese been given the opportunity to enjoy world-class recitals, but the musicians themselves have been able to share their experiences in Taiwan with their teachers and classmates back in the US, helping to continue the fostering of international talent.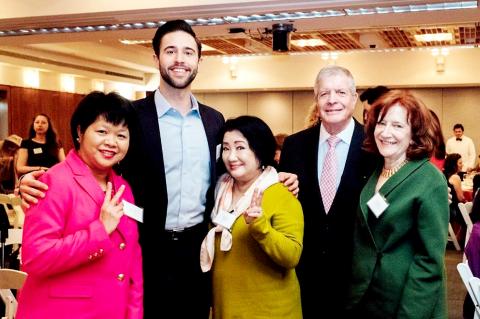 Mrs. Mitzi Koo, center, wife of CTBC Financial Holding Co., LTD founder Dr. Jeffrey L.S. Koo, poses for a photo with The Juilliard School president Joseph Polisi, second right, after receiving a certificate of appreciation from the school.
Last year's Mitzi Foundation scholarship recipient, baritone singer Jacob Scharfman, who has been called "irresistible" and praised for his "attractive, rounded baritone," was recently invited to perform in Taiwan. Scharfman expressed his gratitude to Mrs. Koo and said Taiwan had left him with a wonderful impression, adding that the experience of performing in Taiwan has been of considerable help to him with his musical studies.
Every December,CTBC Financial Holding Co. Ltd.,holds the "CTBC Musical Feast" t and invites current and former Mitzi Foundation scholarship recipients from Juilliard to perform. These have included pianist Evan Shinners, who has performed for the last seven years in a row, clarinetist and saxophonist Zachary Hann, French horn player Kaitlyn Resler and classical trumpet player Tristan Clarke.
Comments will be moderated. Keep comments relevant to the article. Remarks containing abusive and obscene language, personal attacks of any kind or promotion will be removed and the user banned. Final decision will be at the discretion of the Taipei Times.