Taiwanese wins design award
Taiwanese visual designer Wu Chen (吳箏) won first place in the editorial category as a new talent in this year's World Illustration Awards, organized by the London-based Association of Illustrators.
Wu won the award for his work, "Eggs," comprised of five illustrations about eggs.
Eggs symbolize infinite possibilities, as the space enclosed in the round white shells before hatching inspires the imagination of people, especially "the imagination of the future and unknown," Wu wrote on the awards Web site.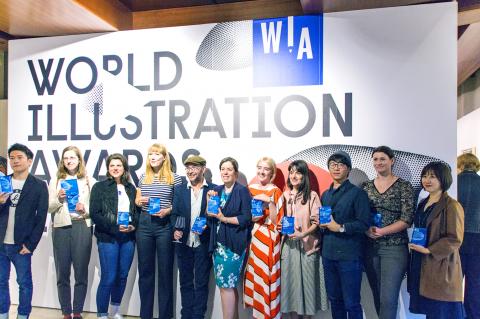 Winners and shortlisted artists including Taiwanese illustrators Hsu Shih-hsien, left, and Wu Chen, third right, hold their prizes at the World Illustration Awards exhibition in London on Thursday last week.
Photo courtesy of Wu Chen
One of Wu's illustrations shows an egg walking on a tightrope.
"I hope that when adults and children see eggs, it will not be just as a basic food. They can have different ideas and opinions about eggs," he said.
It took him a month to create the illustrations for a food magazine last year, but the magazine rejected them, Wu added.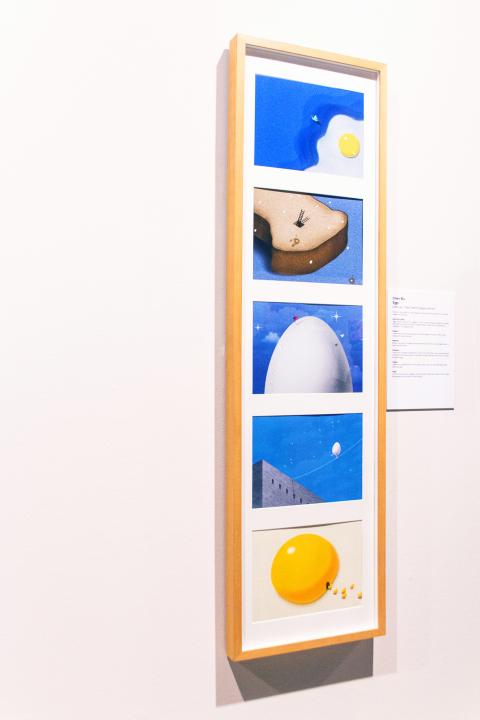 A set of illustrations from Taiwanese artist Wu Chen's Eggs series is shown at the World Illustration Awards exhibition in London on Thursday last week.
Photo courtesy of Wu Chen
Wu was also among the winners of the Adobe Design Achievement Awards in 2016 with a series of illustrations called "Silent City."
"Design can change the lives of people," Wu said, adding that he hopes to get more Taiwanese to accept the culture of design and experience the joy that it brings.
A total of 3,300 entries from 75 nations were submitted to this year's competition, an increase of more than 1,000 from last year's figure.
The awards recognize professional designers and new talents — students and recent graduates — submitting their creations under eight categories: advertising, books, children's books, design, editorial, experimental, research and site-specific.
Esther Goh won first prize in the editorial category as a professional entrant with her work titled "Emojiworld."
Comments will be moderated. Keep comments relevant to the article. Remarks containing abusive and obscene language, personal attacks of any kind or promotion will be removed and the user banned. Final decision will be at the discretion of the Taipei Times.