Bureau vows to step up efforts on illegal lodging
The Tourism Bureau yesterday reiterated that the nation has laws to regulate hotels and other types of short-term accommodations, and that all Internet platforms are required by law to remove ads posted by illegal operators.
At a news conference at Taipei Railway Station, the bureau vowed to step up efforts to crack down on illegal lodging.
The agency is to increase communication with Airbnb and other platforms that advertise accommodations, bureau Director-General Chou Yung-hui (周永暉) said.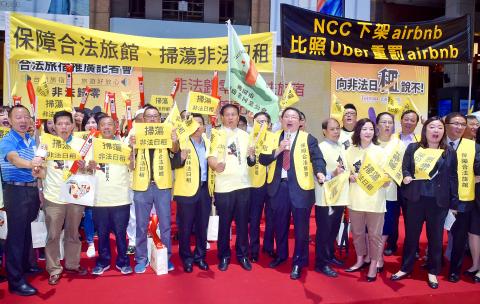 Hotel operators and representatives of booking services and travel agencies call for the end to unlicensed short-term accommodations operations at a news conference organized by the Tourism Bureau in Taipei yesterday.
Photo: Huang Yao-cheng, Taipei Times
The bureau is to confer with the National Communications Commission about working together to crack down on illegal operators, he said, adding that it would also seek legislative support to raise penalties for illegal operators.
"Some only lack registration; they should quickly register their businesses and become legal operators," Chou said.
Japanese Internet firm Rakuten has promised to voluntarily review all listings on its platform and remove those by illegal operators, the bureau said.
Booking.com, Agoda, TripAdvisor and Expedia have also indicated that they would take down listings on their platforms by illegal operators when notified, it said.
San Francisco-based online hospitality service operator Airbnb said in an interview with the Liberty Times (sister newspaper of the Taipei Times) that it voluntarily took down all illegal home-sharing listings in Japan after the Japanese government passed an amendment to the Hotel and Inns Act that provided a clear definition of a "home-sharing service."
Airbnb said that it would be happy to comply if the Taiwanese government enacts regulations similar to those of Japan.
However, the government should not ignore that an increasing number of people seek to enrich their travel experiences by staying with locals voluntarily sharing their homes, it said.
The bureau said it would list on its Web site the online platforms that are unwilling or hesitant to comply with the nation's laws, adding that all illegal home-sharing listings would be referred to local government officials.
"Internet platform operators should adhere to Taiwan's regulations on hotels and short-stay rentals," the bureau said.
The offerings of Taiwan's legal hotels and bed and breakfasts have become diverse, with each having its own characteristics and reputation, the bureau said.
"Tourists might be seeking low-cost accommodations, but problems generated by illegal operators or short-stay rentals — from safety concerns, tax issues and possible invasion of guests' privacy to consumer disputes — have caused them to be banned around the world," the bureau said.
"All legal hotels have passed official evaluations for fire and public safety, hygiene and other elements, and are also required to insure all their tenants," the bureau added.
Comments will be moderated. Keep comments relevant to the article. Remarks containing abusive and obscene language, personal attacks of any kind or promotion will be removed and the user banned. Final decision will be at the discretion of the Taipei Times.