Law requires Aboriginal communities' consent on mining permits: coalition
A coalition of environmental and Aboriginal rights groups yesterday called for reform that would require mining companies to consult and obtain consent from Aboriginal communities before starting operations.
Last week, draft amendments to the Mining Act (礦業法) passed initial reviews by the Legislative Yuan's Economics Committee.
"While several good proposals have been adopted in the draft bill, some have been left out," Citizen of the Earth, Taiwan researcher Huang Ching-ting (黃靖庭) said during a protest outside the Legislative Yuan in Taipei. "For example, the draft still allows exceptions in which companies do not need consent from land owners or Aboriginal communities to start mining."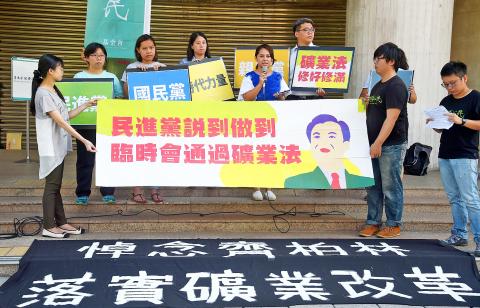 Representatives of Citizen of the Earth, Taiwan and other environmental and Aboriginal rights groups yesterday protest outside the legislature in Taipei, holding signs calling for amendments to the Mining Act.
Photo: Huang Yao-cheng, Taipei Times
"Of all 202 mines nationwide, 161 are on Aboriginal land, but only companies applying for mining permits for the first time are required to obtain Aboriginal communities' consent," she said.
According to articles 20 and 21 of the Indigenous Peoples Basic Law (原住民族基本法) passed in 2005, any land development project or use of natural resources on Aboriginal land requires consent from the Aboriginal community, Legal Aid Foundation lawyer Hsieh Meng-yu (謝孟羽) said.
However, "despite efforts by the Council of Indigenous Peoples, the Executive Yuan allows companies to renew mining permits without the consent of Aboriginal communities," he said. "Most of the companies are not applying for permits for the first time, so what is the use of those two articles? Are Aboriginal people not being bullied?"
President Tsai Ing-wen (蔡英文) should make good on her promises to reform mining and promote Aboriginal transitional justice, he added.
Companies should obtain consent from Aboriginal communities, even when applying for license renewal, Indigenous Youth Front member Lai Wei-li (賴韋利) said, adding that a miners' licenses should be revoked if they fail to do so.
Chinese Nationalist Party (KMT) Legislator Sufin Siluko (廖國棟) and New Power Party Legislator Kawlo Iyun Pacidal, who are both Amis, have signed a document endorsing the proposals, Lai said.
While the draft amendments have stricter requirements regarding environmental impact assessments, the provisions could be scrapped during cross-caucus negotiations, Huang said.
"What we need is true reform with all the necessary amendments," she said, adding that the legislature should pass the amendments in the upcoming extraordinary session expected to begin on Monday.
Comments will be moderated. Keep comments relevant to the article. Remarks containing abusive and obscene language, personal attacks of any kind or promotion will be removed and the user banned. Final decision will be at the discretion of the Taipei Times.