Qantas defends listing Taiwan as part of China
Qantas chief executive Alan Joyce yesterday defended the carrier's move to list Taiwan as part of China on its Web sites after Australian Minister of Foreign Affairs Julie Bishop said private firms must be able to conduct business "free from political pressure."
The Civil Aviation Administration of China in April sent a notice to 36 foreign airlines, asking them to comply with Beijing's standards of referring to Taiwan, Hong Kong and Macau as Chinese territories.
Late last month, Agence France-Presse found several foreign airlines were still listing Taiwan as a country, including Qantas.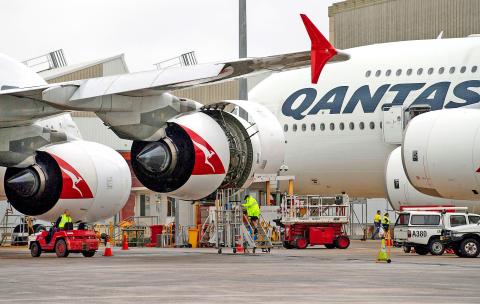 Ground staff prepares a Qantas Airbus A380 aircraft for flight at the Sydney International airport on Friday last week.
Photo: AFP
Joyce told reporters at an annual meeting of global airlines in Sydney that "our intention is to meet the requirements," but there were some technical delays.
He defended the carrier's decision to comply with Beijing's demands, saying that "at the end of the day, the Australians, like a lot of countries, have a 'one China' policy."
Qantas International Airways chief executive Alison Webster said the carrier had been given an extension to make the changes.
"We have some complexity to work through," she said.
Qantas' decision comes amid souring Australia-China relations.
Canberra has introduced a raft of reforms to espionage and foreign interference legislation, with Beijing singled out as a focus of concern.
Asked about Bishop's remark that Qantas should be free from political pressure in conducting business, Chinese Ministry of Foreign Affairs spokeswoman Hua Chunying (華春瑩) said: "I don't know what is implied by that."
"There is only one China in the world. Hong Kong, Taiwan and Macau are all part of China," she said, adding that this was an "objective fact" accepted by the international community.
Chief executive Calin Rovinescu of Air Canada, which has also changed its Web site, said the carrier was "not a government" and was "not making any kind of a political statement."
"We do, like so many of the other airlines, take the same view that when we operate into the various jurisdictions, we'll comply with the requirements of the various jurisdictions," he added.
Comments will be moderated. Keep comments relevant to the article. Remarks containing abusive and obscene language, personal attacks of any kind or promotion will be removed and the user banned. Final decision will be at the discretion of the Taipei Times.