Spy plane flies near Taiwan's airspace during annual drills
A Chinese People's Liberation Army Air Force spy plane on Monday flew near Taiwan's airspace on the first day of the annual Han Kuang military exercises.
The aircraft, identified as an electronic warfare variant of the Shaanxi Y-9, flew over the East China Sea to the West Pacific through the Miyako Strait and proceeded south to the Bashi Channel in the West Pacific before returning home, the Japanese Ministry of Defense said.
Japan Self-Defense Forces fighter jets intercepted the Chinese airplane, it added.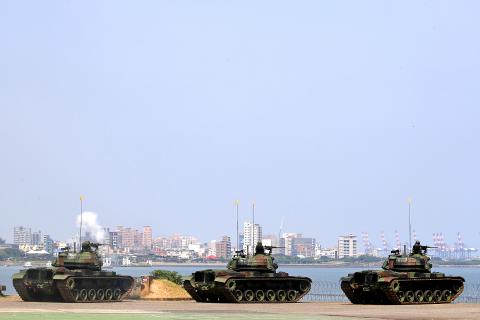 Tanks perform maneuvers as part of the annual Han Kuang military exercises in New Taipei City yesterday.
Photo: EPA-EFE
The Chinese aircraft was attempting to collect radar systems parameters, the Ministry of National Defense (MND) said, adding that Taiwan's military had monitored the situation.
Monday's Han Kuang drills simulated the dispersal of air force and navy units following specific intelligence indicating an imminent Chinese attack, the MND said.
The air force relocated its General Dynamics F-16, Dassault Mirage 2000 and AIDC F-CK-1 jets from air bases in western Taiwan to Jiashan Air Base in Hualien County, with mission-critical spare parts moved by Lockheed C-130 transports, it said.
The navy conducted an emergency evacuation of vessels from various military ports to safe zones at sea, where they prepared to counterattack, it added.
The army yesterday conducted a 25-minute live-fire counterattack drill near the Tamsui River (淡水河), the MND said.
The Sixth Army Corps Guandu Area Command is responsible for the security of northern Taiwan, including protecting Taipei Port and the Tamsui River.
Command personnel fought a simulated Chinese invasion on the opposite side of the river with CM-11 tanks and FGM-148 Javelin anti-tank missiles, as well as CM-21 armored personnel and CM-22 mortar carriers.
As the river estuary is just 8km from Guandu Bridge (關渡大橋) and 22km from Taipei, "Guandu Bridge is our last line of defense," said Major General Lai Rong-jie (賴榮傑), commander of the Guandu Area Command.
President Tsai Ing-wen (蔡英文) was yesterday to observe live-fire drills at Jioupeng Military Base in Pingtung County, the MND said.
Separately, the Maritime Port Bureau said that the Chinese Air Traffic Management Bureau issued a notice that a spaceflight would take place over the Taiwan Strait from 9pm to 9:59pm tonight.
Chinese officials have declared a security warning zone from sea level to an indefinite altitude, it said, which could indicated that the activity is probably a spacecraft falling from orbit.
Taiwanese maritime traffic should not be affected, as the warning zone is outside of Taiwan's territorial waters, it added.
Additional reporting by CNA
Comments will be moderated. Keep comments relevant to the article. Remarks containing abusive and obscene language, personal attacks of any kind or promotion will be removed and the user banned. Final decision will be at the discretion of the Taipei Times.