F-16's black box, remains of pilot found in a valley
Search-and-rescue parties yesterday located the flight data recorder of an F-16 that on Monday crashed on Wufenshan (五分山) in New Taipei City, while President Tsai Ing-wen (蔡英文) visited the family of the pilot, Major Wu Yen-ting (吳彥霆).
The fighter apparently crashed into the mountain and tumbled 200m to 300m into a valley without exploding, as the crash site showed no signs of a fire, Keelung Fire Department Director-General Chen Lung-hui (陳龍輝) said.
The flight data recorder and part of Wu's remains were discovered during a search of the site by 82 department rescue workers working in six groups, Rescue Station Chief Hsiao Po-huan (蕭柏桓) said.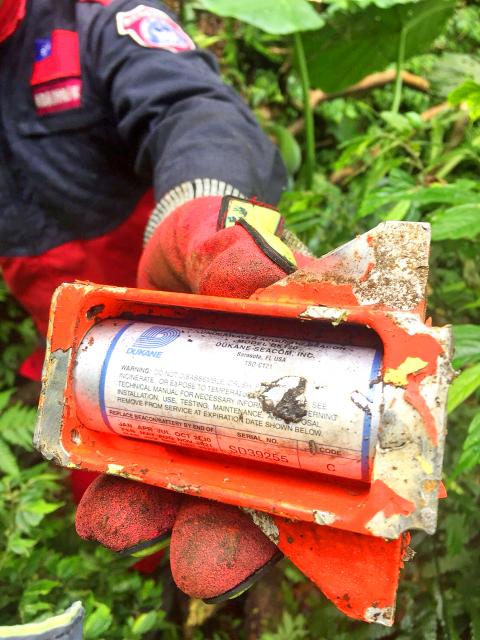 A rescue worker holds an underwater acoustic beacon found 120m downhill from the crash site of an F-16 on Wufenshan in New Taipei City yesterday.
Photo copied by Lin Ho-tung, Taipei Times
The military identified the flight data recorder as belonging to the F-16 from a serial number in a photograph taken by rescue workers, which was hand-delivered due to a lack of cellular signal in the area, he said.
A military special operations unit has retrieved the recorder, while other military units are to take over the recovery of the wreckage from coordinates firefighters have provided them, he added.
Wu's remains were sent to a morgue in Keelung to await a forensic examination, officials said.
Tsai visited Hualien Air Force Base to pay her respects to Wu's family at a closed event.
The Presidential Office said in a statement that Wu's mother told Tsai that her son was a good pilot and asked the president to guarantee that he would not be unfairly blamed in follow-up investigations.
Tsai reportedly told Wu's wife, Lin Fang-ying (林芳瑩), who is also in the air force, to remain strong and ordered the Ministry of National Defense to ensure that his relatives receive any assistance they need.
Asked for comment, Executive Yuan spokesman Hsu Kuo-yung (徐國勇) told a news conference in Taoyuan that Tsai has authorized the government to provide Wu's family with a stipend, saying that all military personnel are precious to the nation.
Additional reporting by CNA
Comments will be moderated. Keep comments relevant to the article. Remarks containing abusive and obscene language, personal attacks of any kind or promotion will be removed and the user banned. Final decision will be at the discretion of the Taipei Times.