Irma Boom's Tang Prize certificate designs unveiled
Irma Boom, the designer of this year's Tang Prize certificates, on Saturday said that she was inspired by American poet Robert Frost when creating her work, through which she is trying to explore new frontiers to pay homage to the spirit embodied by the Tang Prize winners.
The certificates are folded in a special way to create eye-catching lines that form vibrant color blocks, which symbolize the groundbreaking ideas of the winners, the Dutch book designer said.
Boom said her work was inspired by Frost's poem The Road Not Taken, best known for the lines: "Two roads diverged in a wood, and I — I took the one less traveled by, and that has made all the difference."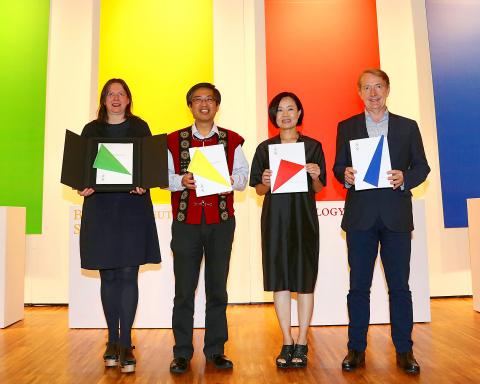 From left, the designer of this year's Tang Prize certificates, Irma Boom, poses for a photograph with Tang Prize Foundation CEO Chern Jenn-chuan, Taiwan Design Center CEO Ai Shu-ting and Dutch Representative to Taiwan Guy Wittich in Taipei on Saturday.
Photo: CNA
The winners did not take the easy and obvious path in their fields of sustainable development, biopharmaceutical science, Sinology and the rule of law on their way to scaling new academic heights, Boom said.
Boom also integrated Dutch design elements into her work, notably the use of bright colors.
For the certificates, she used red, green, yellow and blue triangles on a white background.
At an event to unveil the certificates, Dutch Representative to Taiwan Guy Wittich said he hoped the designs could symbolize ties between Taiwan and the Netherlands, and contribute to their vision for a better society.
The third round of Tang Prize winners are to be announced from June 18 to June 21.
An awards ceremony is to be held on Sept. 21 and the winners are to give a series of lectures at universities from Sept. 25 to Sept. 27.
The award, which is presented every two years, was established by Taiwanese entrepreneur Samuel Yin (尹衍樑) in 2012 to complement the Nobel Prizes.
The first Tang Prize award ceremony was held in 2014.
Comments will be moderated. Keep comments relevant to the article. Remarks containing abusive and obscene language, personal attacks of any kind or promotion will be removed and the user banned. Final decision will be at the discretion of the Taipei Times.