Tainan stores to sell cans of beer featuring Koxinga
Stores at Tainan's historic sites are to sell cans of beer bearing the image of Koxinga, also known as Cheng Cheng-kung (鄭成功), by the middle of this month, the Tainan Cultural Affairs Bureau said.
The cans of beer — a collaboration between the city government and Shanhua Brewery — were conceived following the surprising popularity of limited-edition Koxinga potato chips sold earlier this year, the bureau said.
Koxinga, a Ming Dynasty loyalist who conquered Dutch-held Fort Zeelandia and established the capital of his renegade kingdom in Tainan, has long been an important figure in Tainan's efforts to boost the tourism industry.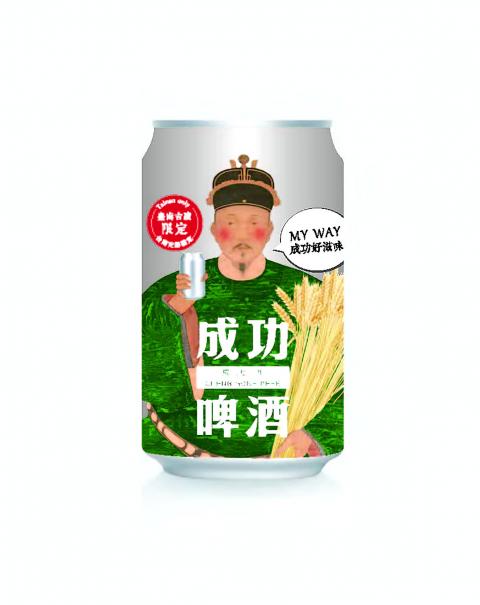 A can of limited-edition Koxinga beer, a collaboration between Shanhua Brewery and the Tainan Cultural Affairs Bureau, is pictured on Monday last week in Tainan.
Photo: Liu Wan-chun, Taipei Times
From Feb. 1 to May 22, stores in the city's historic Anping District (安平) sold more than 30,000 bags of Koxinga chips, generating NT$47 million (US$1.58 million) in revenue, 25 percent more than the same period last year, the bureau said.
Using the same artistic style, the beer cans bear the image of Koxinga holding a beer in one hand and a sheaf of wheat or a bundle of lychee fruit in the other, as appropriate to the flavor of the beer, the bureau said.
Playing on Koxinga's name Cheng-kung, which means "success," the cans also carry slogans such as "my way — the flavor of success," "lychee success flavor" or "strive for success," it said.
Shanhau Brewery, which is owned and operated by Taiwan Tobacco and Liquor Corp, was formerly known as Chengkung Brewery, the bureau said, adding that the beers would help make historic sites in the city more trendy to a younger generation of visitors.
Meanwhile, the Koxinga Museum on April 29 added to its permanent display a collection of verified Tainan cultural relics, including calligraphy, wood and jade prints, documents, coins, seals and carvings.
The exhibit is jointly sponsored by the bureau and the Tainan Cultural Property Association.
One exhibit that has attracted attention is a horizontal tablet, dated 1869, by then-Taiwan prefecture commissioner Bai Luanqing (白鸞卿) that exhorts imperial officials to uphold the integrity of their office.
The 16-character exhortation which warns imperial functionaries that they draw their stipend from the people and divine retribution would befall corrupt conduct has evidently struck a nerve, as visitors can frequently be heard commenting on its "timeless quality."
The bureau said the exhortation was repeated several times in slightly modified form by later rulers.
Comments will be moderated. Keep comments relevant to the article. Remarks containing abusive and obscene language, personal attacks of any kind or promotion will be removed and the user banned. Final decision will be at the discretion of the Taipei Times.