Members of New Party in spy case urge resolution
New Party spokesman Wang Ping-chung (王炳忠) and two other New Party youth wing leaders yesterday urged judicial authorities to return their personal belongings confiscated in December last year in connection with an espionage case and to "stop dividing the nation" by allowing the investigation to drag on.
On Dec. 19 last year, police detained Wang and New Party youth wing executives Ho Han-ting (侯漢廷), Lin Ming-cheng (林明正) and Chen Ssu-chun (陳斯俊) for questioning in connection with an espionage investigation against Chinese student Zhou Hongxu (周泓旭).
In April and last month, the Taipei District Prosecutors' Office again summoned the four New Party members for questioning — but this time as defendants for allegedly violating the National Security Act (國家安全法) — and restricted them from leaving the nation.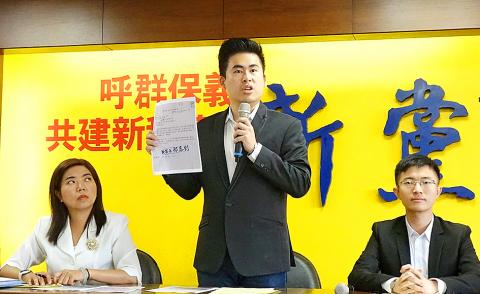 New Party spokesman Wang Ping-chung, center, flanked by two New Party youth wing leaders, speaks at a news conference yesterday in Taipei.
Photo: Fang Pin-chao, Taipei Times
The members yesterday criticized the judicial authorities for allowing the investigation to continue for nearly six months and for preventing them from attending the Straits Forum, which is to begin in China tomorrow.
"The investigation has been ongoing without any findings for a long time and the bureau owes us an explanation," Wang said.
"How has the New Party's youth wing undermined national security by holding camps, talks and clubs or by building Web sites?" Wang said.
President Tsai Ing-wen (蔡英文) had been responsible for many campaigns aimed at opposing former president Ma Ying-jeou (馬英九), he added, saying that the campaigns had posed much more of a threat to national security than theirs.
"We are not against the government investigating real spies, but we will not tolerate any attempts to silence political dissidents by using national security as an excuse," he said.
Police have not returned the party members' computers, tablet devices or cellphones confiscated in December last year, attorney Chen Li-ling (陳麗玲) said, adding that the files should have been copied and the devices returned to them by now.
A prosecutor said that their applications to attend the event in China were rejected because the purpose of their visit was related to the case under investigation, Lin said.
"How can taking part in the Straits Forum — a cross-strait exchange event organized by civil groups — and attending conferences on cultural start-ups be a national security issue?" Lin said.
The prosecutors' office and the Investigation Bureau should resolve the case as soon as possible to prevent the nation from becoming further divided, he said.
"If they have any evidence, they should just file charges against us," Lin added. "Allowing this to drag on is not good for Taiwan or cross-strait relations."
Comments will be moderated. Keep comments relevant to the article. Remarks containing abusive and obscene language, personal attacks of any kind or promotion will be removed and the user banned. Final decision will be at the discretion of the Taipei Times.