Palauan president says he would 'never' break off ties with Taiwan in interview
Palau will not cut diplomatic ties with Taiwan, even as China piles on the pressure, Palauan President Tommy Remengesau said yesterday in an interview in Tokyo with the Japanese-language Nihon Keizai Shimbun.
Calling China an "important partner," Remengesau said that he is not opposed to engaging with China.
"If we had a choice, we would like to recognize China and Taiwan tomorrow," Remengesau said in the world's largest business newspaper.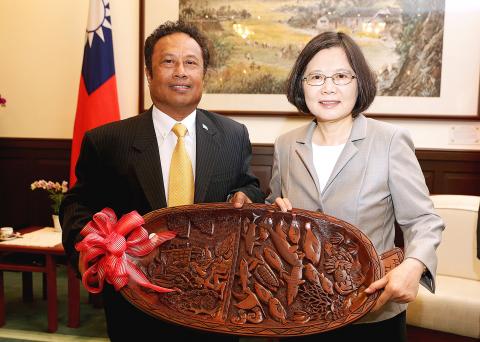 President Tsai Ing-wen, right, receives a gift from Palauan President Tommy Remengesau at the Presidential Office in Taipei on May 21, 2016.
Photo courtesy of presidential Office
However, as Palau shares common ideals, values and principles with Taiwan, such as that of freedom, the country would "never" cut ties with Taiwan and shift recognition to Beijing on his watch, Remengesau said.
Media have reported that China has stepped up pressure on Palau to sever diplomatic relations with Taiwan and has banned group tours to the Pacific island nation, dealing a blow to its tourism sector — one of the country's major industries.
Against such a backdrop, Palau needs to attract more tourists from other countries while still welcoming visitors from China, Remengesau said, adding that the country is seeking private investment from Japan and government support for investment projects, such as construction of hotels.
The diplomatic tug-of-war between Taiwan and China was rekindled after President Tsai Ing-wen (蔡英文) of the Democratic Progressive Party (DPP) assumed power in May 2016.
Tsai and the DPP refuse to accept the so-called "1992 consensus" — a tacit understanding between the Chinese Nationalist Party (KMT) and the Chinese government that both sides of the Taiwan Strait acknowledge that there is "one China," with each side having its own interpretation of what "China" means.
Former Mainland Affairs Council chairman Su Chi (蘇起) in 2006 admitted making up the term in 2000.
The Dominican Republic on April 30 severed relations with Taiwan after 77 years, leaving the country with only 19 diplomatic allies, including Palau. It was the third diplomatic ally that Taiwan has lost under Tsai's administration, after Sao Tome and Principe in December 2016 and Panama in June last year.
Comments will be moderated. Keep comments relevant to the article. Remarks containing abusive and obscene language, personal attacks of any kind or promotion will be removed and the user banned. Final decision will be at the discretion of the Taipei Times.