'New May Fourth' plans criticized by NTU faculty
The Action Alliance for University Autonomy's plan to launch a "New May Fourth Movement" today, in protest of the Ministry of Education's decision to not confirm Kuan Chung-ming (管中閔) as National Taiwan University president, came under fire yesterday from some alumni and professors at the school.
The alliance on Tuesday said the ministry had trampled on university autonomy by requiring the school to select another president, and it announced that it would hold several events today in support of university autonomy, including a 21-minute walkout, a reading of the "Manifesto of the New May Fourth Movement," a march from the university bell tower to its main gate and a candlelight vigil.
Student members of the alliance said the number 21 was chosen because Fu Ssu-nien (傅斯年), one of the leaders of the May Fourth Movement in China in 1919, who later became NTU president, had once said there are only 21 hours a day because the remaining three hours must be spent pondering.
Bouquets lay on the steps of the Fu Bell tower on the campus of National Taiwan University in Taipei yesterday, which has been bedecked with yellow ribbons and signs reading "Give us our president back" and "University autonomy."
Photo: Liao Chen-huei, Taipei Times
However, Chen Fang-ming (陳芳明), a professor at National Chengchi University, criticized efforts to compare the controversy over Kuan and protests in support of him and university autonomy with the 1919 movement as an insult to the original movement and Fu.
"As an NTU alumnus, I am sad to see how things have evolved. What happened with the university president election was a corporation trying to make one of its members [the school] president. It seriously contravened the principles of democracy, yet some people are trying to justify it by citing the May Fourth Movement and Fu," Chen wrote on Facebook.
"This is not what university autonomy or democracy should be," he wrote.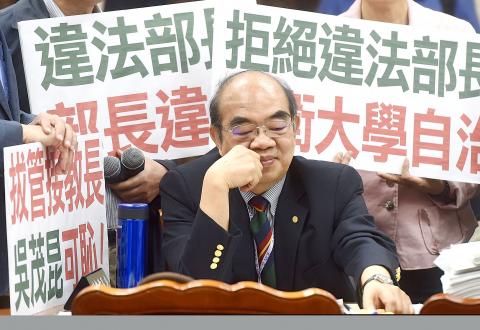 Minister of Education Wu Maw-kuen listens during a review of a bill yesterday at the Legislative Yuan in Taipei, while Chinese Nationalist Party (KMT) legislators hold signs behind him that call him an illegitimate minister and accuse him of interfering with university autonomy.
Photo: Chien Jung-fong, Taipei Times
NTU professor Chen Tsui-lien (陳翠蓮) posted on Facebook a letter written by another NTU professor, Lillian Wang (王泰俐), to the National Communications Commission that said reports by Chinese-language media outlets Next TV, TVBS, SET TV, CtiTV, ET Today and ERA TV had falsely described the alliance's events as held by "NTU teachers and students."
"The alliance only represents the voice of some teachers and students," Wang wrote, adding that the media reports were misleading and should be corrected.
Given the alliance's "New May Fourth Movement" plans, Wang said she hoped that the commission would inform media outlets of the misinformation in their reports to prevent them from describing the "movement" as a campaign backed by all NTU teachers and students.
While NTU interim president Kuo Tei-wei (郭大維) has criticized the ministry's decision to not confirm Kuan as a threat to university autonomy, the school yesterday issued a statement saying that it "did not support and has not agreed to the planned walkout," because campus events should not affect teaching or the safety of students and faculty.
Comments will be moderated. Keep comments relevant to the article. Remarks containing abusive and obscene language, personal attacks of any kind or promotion will be removed and the user banned. Final decision will be at the discretion of the Taipei Times.