Academics pan ministry over Kuan
'NEW MAY FOURTH': A group of NTU students and faculty members plan to walk out of classes to protest what they said was a violation of school autonomy
The Ministry of Education's refusal to confirm Kuan Chung-ming (管中閔) as National Taiwan University (NTU) president has undermined the university's autonomy and the nation's education system, former school president Sun Chen (孫震) and several other academics said yesterday.
The ministry on Friday last week announced that Kuan was unqualified to be the university's president because he had illegally worked at Taiwan Mobile Co as a member of the company's auditing and the salary committees, and as an independent director.
It also cited a conflict of interest in the election, as company vice chairman Richard Tsai (蔡明興) was a member of the NTU presidential election committee.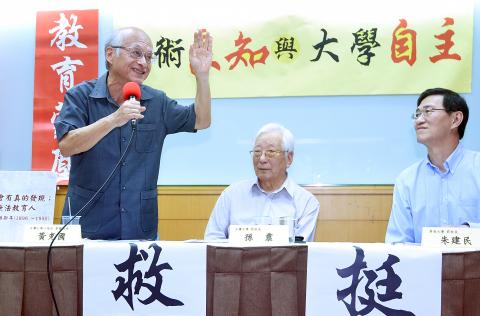 Former National Taiwan University (NTU) president Sun Chen, center, and NTU professors yesterday attend a news conference in Taipei to protest against the Ministry of Education refusing to confirm Kuan Chung-ming as NTU president.
Photo: Liao Chen-huei, Taipei Times
A group of former university presidents and academics that graduated from NTU criticized the ministry's decision as lacking legal basis at a news conference held by the Democratic Action Alliance, a pro-unification group, in Taipei.
"The ministry's decision was against the public interest, against the law and not based on truth," Sun said, adding that it needs to provide clear evidence and better reasons for not appointing Kuan.
He did not see any problems regarding Kuan's academic integrity and believes that the election committee had disproved the alleged conflict of interest, Sun said.
"Kuan serving as an independent director, and auditing and salary committee member was no different from legislators doubling as members of the [legislature's] Education and Culture Committee or Foreign Affairs and National Defense Committee," he said.
Ill-intentioned people would believe other people to be as such and would refuse to accept opinions different from theirs, Sun said, adding that the government has made up its mind that Kuan cannot become NTU president.
"This political and legal controversy will not end until Minister of Education Wu Maw-kuen (吳茂昆) steps down and the Executive Yuan apologizes," he said.
"The ministry has not only caused NTU and the nation's higher education system harm, but also undermined all the important values that have developed in Taiwan in the past several decades," Human University former president Ju Jien-ming (朱建民) said.
"Now that all those values have become tools for political feuds, does Taiwan still have a future?" he said.
The ministry's decision to not confirm Kuan was an insult to the university, Hwang Kwang-Kuo (黃光國) said, adding that Wu is himself embroiled in great controversies.
Wu has tried to make a patented technology that belongs to National Dong Hwa University his own, he said.
"A man with no academic integrity and involved in controversy is by no means qualified to be the minister of education," he added.
A group of NTU students and faculty members plan to launch a "new May fourth movement" on the NTU campus tomorrow to protest what they described as the government's attempt to undermine university autonomy.
The event's organizers said teachers and students would walk out of classes at 4pm and rally at a bell tower on campus, where they would read out loud a "New May Fourth Manifesto."
Students would then march to the university's main gate and hold a candlelight vigil, they said.
Comments will be moderated. Keep comments relevant to the article. Remarks containing abusive and obscene language, personal attacks of any kind or promotion will be removed and the user banned. Final decision will be at the discretion of the Taipei Times.