Groups urge president to save reefs from CPC plan
SAVE OUR SEAS: Various musicians performed at the environmental groups' concert yesterday, while lectures were also given on the algal reefs that are threatened
Environmental groups yesterday staged a concert on Taipei's Ketagalan Boulevard to raise awareness about algal reefs that are threatened by a gas terminal project.
The algal reefs are in Taoyuan's Guantang Industrial Park (觀塘工業區), and its yet-to-be-built port in Guanyin District's (觀音) Datan Borough (大潭) — the planned site for state-run CPC Corp, Taiwan's third liquefied natural gas terminal.
Starting at 3pm yesterday, musicians, including Amis singer Panai Kusui and Hakka singers Lin Sheng-xiang (林生祥) and Lo Sirong (羅思容), performed at the concert and environmentalists lectured on the issue.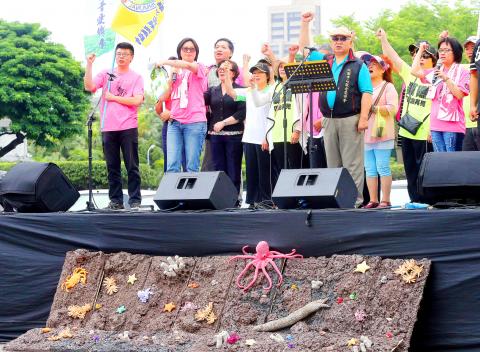 Members of environmental groups shout slogans during a concert on Taipei's Ketagalan Boulevard yesterday, which was arranged in support of conserving the algal reefs in Taoyuan's Guanyin District.
Photo: CNA
The groups urged President Tsai Ing-wen (蔡英文) to protect the species as she had promised.
"Long live the algal reefs" is what Tsai wrote during her visit to Datan's reefs on April 20, 2013, before she was elected president, said Rescue Datan's Algal Reefs Alliance convener Pan Chong-cheng (潘忠政), who is also director-general of the Taoyuan Local Union.
Tsai's words were written on a banner placed beside the main stage, along with the statement: "Protecting algal reefs. Never give up," which was made by Taoyuan Mayor Cheng Wen-tsan (鄭文燦) in 2014, when Cheng was the Democratic Progressive Party candidate for the mayoral election, Pan said.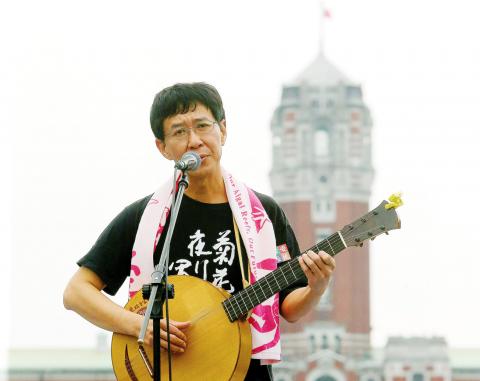 Hakka singer Lin Sheng-xiang performs at a concert on Taipei's Ketagalan Boulevard yesterday held in support of conserving the algal reefs in Taoyuan's Guanyin District.
Photo: CNA
The rally's hundreds of participants formed the letters "SOS," as a call for help.
They also sent a letter to the Presidential Office, reminding Tsai of her statement and urging her to protect the world-class area, Pan said.
As Tsai yesterday inaugurated the Ocean Affairs Council in Kaohsiung, which is tasked with marine protection, she should have paid more attention to Datan's ecosystems, said Allen Chen (陳昭倫), a researcher at Academia Sinica's Biodiversity Research Center.
People visiting Datan's coast might see the stretch of algal reefs as something trivial because of its dark colors, yet they can be compared to a mysterious "black box," center director Chaw Shu-miaw (趙淑妙) said.
It is curious how people try to destroy the black box when they do not understand its content, she said, adding that she was speaking in her personal capacity, as she is not allowed to represent the center.
The Legislative Yuan's Social Welfare and Environmental Hygiene Committee would on Wednesday require governmental officials to report on the project, Chinese Nationalist Party (KMT) Legislator Alicia Wang (王育敏) said.
Comments will be moderated. Keep comments relevant to the article. Remarks containing abusive and obscene language, personal attacks of any kind or promotion will be removed and the user banned. Final decision will be at the discretion of the Taipei Times.