Supporters come out in force to back Pasuya Yao
More than 10,000 people yesterday marched in Taipei, calling on the Democratic Progressive Party (DPP) to nominate DPP Legislator Pasuya Yao (姚文智) for Taipei mayor in the Nov. 24 nine-in-one elections.
Wearing bright neon green T-shirts that read "Taiwan Taipei" in bold capital letters, participants set off from Minquan Park in the city's Songshan District (松山) at 2pm, and arrived at the square in front of the Sun Yat-sen Memorial Hall at about 5pm.
The "march for Taiwanese values and dreams" passed through Taipei International Airport (Songshan airport) and the Taipei Dome construction site, sites that Yao has called two of the city's most urgent issues to be solved.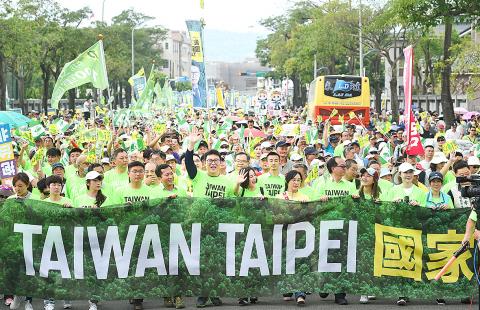 Supporters of Democratic Progressive Party Legislator Pasuya Yao, front center, march in Taipei yesterday.
Photo: Fang Pin-chao, Taipei Times
Yao has said he would demolish the airport and turn it into a large park, and plans to solve the stalled Taipei Dome construction project by terminating the contract with Farglory Group, which he yesterday said would be handled in accordance with public opinion.
Participants chanted slogans, such as "goodbye Ko-P [Taipei Mayor Ko Wen-je's (柯文哲) nickname]," "Pasuya Yao, win the election" and "Taiwan Taipei," as they walked through the streets of eastern Taipei.
"The theme of the march is clearly set on protecting Taiwanese values, establishing the capital of Taiwan and transforming Taipei in hopes of realizing people's dreams for the capital city," Yao said.
More than 90 percent of the DPP's city councilors attended the march, and all 5,000 T-shirts were sold out in 10 minutes, he said.
"The social atmosphere and energy is as clear as a bell — people do not want Mayor Ko Wen-je, who has betrayed Taiwanese values, to be the mayor anymore," Yao said.
With so many people joining the march, high-level DPP officials should see that the party must nominate its own candidate for the Taipei mayoral election and have its own vision and direction for the capital, rather than supporting Ko as it did in the 2014 election, he added.
A few DPP legislators, including Rosalia Wu (吳思瑤), Lo Chih-cheng (羅致政) and former vice president Annette Lu (呂秀蓮), also joined Yao in the march.
Asked about the Taipei Dome construction project, which has been suspended for more than three years, Ko yesterday said that public safety work has continued at the site to prevent public disasters, but the city government would hold its ground and not give in just because he feels pressure from the upcoming election.
Comments will be moderated. Keep comments relevant to the article. Remarks containing abusive and obscene language, personal attacks of any kind or promotion will be removed and the user banned. Final decision will be at the discretion of the Taipei Times.