Candidates move away from Ko
UNINVITED: One DPP Taipei city councilor and two hopefuls slammed Taipei Mayor Ko Wen-je on a radio show to try and assuage voters' fears they support him
Three Democratic Progressive Party (DPP) candidates yesterday hinted they would distance themselves from Taipei Mayor Ko Wen-je (柯文哲) in deference to voters, as a backlash from the pan-green camp mounts.
DPP Taipei City Councilor Yan Juo-fang (顏若芳), who is seeking re-election, told Hit FM radio host Clara Chou (周玉蔻) on her morning show that many DPP voters are irate over Ko's stance on China.
Ko's talk about Taiwan and China being one family has deeply offended her constituency in the 4th electoral district of Taipei, which is comprised of Zhongshan (中山) and Datong (大同) districts, Yan said.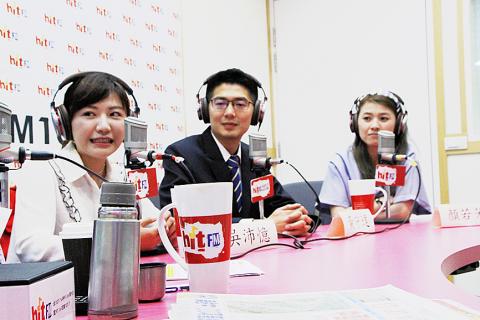 Democratic Progressive Party Taipei City Councilor Yan Juo-fang and city councilor candidates Huang Shou-ta and Wu Pei-yi, right to left, are interviewed on Hit FM radio in Taipei yesterday morning on Clara Chou's CocoBreakfast show.
Photo courtesy of Coco Breakfast, Hit FM radio
Calling her voters staunch supporters of traditional DPP values, Yan said that many of them told her they would abandon the DPP in the Nov. 24 elections if the party endorses Ko in the mayoral election.
Yan said that she recently attended a ribbon-cutting ceremony for a park with Ko and immediately afterward was inundated with complaints from her voters.
Wu Pei-yi (吳沛憶), who is new to politics and is running for a Taipei City councilor seat, said on the radio show that she hears "on average one complaint about Ko per hour" when campaigning door-to-door in Wanhua (萬華) and Zhongzheng (中正) districts.
Huang Shou-ta (黃守達), a former Sunflower activist who is running for a DPP Taichung City council seat, said that people's unhappiness with Ko is palpable in Taichung.
After Ko showed up at one of his rallies uninvited, would-be voters made angry calls to his campaign office as they mistakenly believed that Ko had been invited to the event, Huang said.
Chou asked her DPP guests to comment on a social media war-of-words between New Power Party (NPP) Executive Chairman Huang Kuo-chang (黃國昌) and Presidential Office Deputy Secretary-General Yao Jen-to (姚人多) over the nomination of Huang Huang-hsiung (黃煌雄) as chairman of the Executive Yuan's transitional justice promotional committee — an appointment Huang Ko-chang opposes.
Wu and Huang Shou-ta, who are considered mutual acquaintances of Huang Kuo-chang and Yao, said that they would offer support for Yao.
Huang Kuo-chang and Yao are "both idealistic and romantic, but somewhat immature," Huang Shou-ta said, adding that he mostly thought of the exchange as a private dispute between the pair.
Huang Kuo-chang and Yao are sincere in their belief in and support for transitional justice, Wu said, adding that the argument "has gotten out of control."
Comments will be moderated. Keep comments relevant to the article. Remarks containing abusive and obscene language, personal attacks of any kind or promotion will be removed and the user banned. Final decision will be at the discretion of the Taipei Times.