Improved road section backed up for 12 hours
HOLIDAY HELL: It took drivers up to 50 minutes to travel the 4km distance between the Suao Interchange on the Taipei-Yilan Freeway and the entrance to Suhua Highway
A 12-hour traffic jam on a stretch of road between Yilan County's Suao Township (蘇澳) and Hualien County's Dongao Township (東澳) on the improved Suhua Highway plagued travelers on the first day of the long Tomb Sweeping Day holiday.
The 9.7km section had not seen significant traffic since its reopening on Feb. 5 due to the magnitude 6.0 earthquake that hit Hualien the next day, and this was its first real challenge, the Directorate-General of Highways said.
Vehicles traveling on the expressway section yesterday exceeded 900 per hour, the peak amount for the section, the agency said, adding that traffic snarl started to back up at about 2am and did not lessen until 2pm.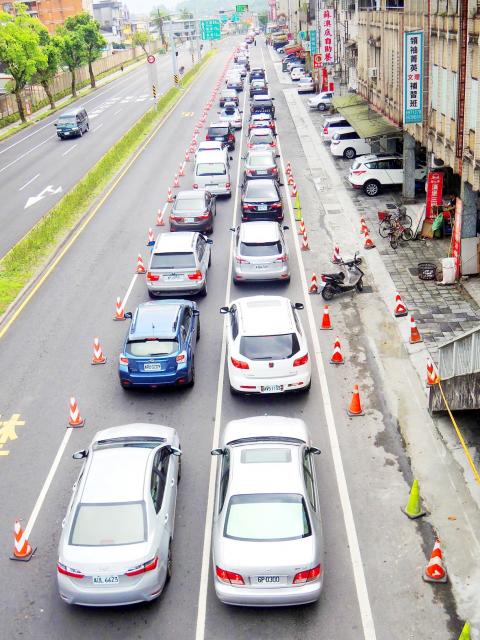 Southbound cars wait in Yilan County's Suao Township yesterday.
Photo: Chiang Chih-hsiung, Taipei Times
It took drivers 30 to 50 minutes to travel the 4km distance between the Suao Interchange on the Chiang Wei-shui Memorial Freeway (Freeway No. 5) and the Suao Tunnel entrance to the Suhua Highway, the agency said.
Southbound lanes in Suao Township barely moved, and drivers were seen leaving their vehicles and walking along the road to relieve themselves of boredom, it added.
The Suao Township Precinct tried to ease the congestion by dispatching police officers to direct traffic at key intersections, with Deputy Precinct Chief Tian Hsien-ting (田獻庭) personally directing traffic at the Suao Tunnel entrance, it said.
The agency said it expects further congestion on the Suhua Highway's southbound lanes until noon today, adding that the return rush is expected to start on Saturday afternoon.
Meanwhile, Minister of Transportation and Communications Hochen Tan (賀陳旦) yesterday inspected a traffic control center in the agency's Yilan County Fourth Maintenance Office.
The drive from Taipei to Yilan, which normally takes 90 minutes, took two hours and 20 minutes, Hochen said, adding that there was still room for improvement.
The Ministry of Transportation and Communications should strive to inform drivers about alternative routes, he said.
Drivers started accessing the Suao-Dongao section earlier than expected, which was perhaps caused by a wish to take advantage of the good weather during the holiday, Hochen said.
Southbound traffic flowed much more smoothly on Highway No. 5, as the ministry had taken measures to divert traffic there, he added.
Hochen called on drivers to pay attention to road information broadcasts as the end of the holiday nears, adding that the information could help them avoid traffic jams and delays.
Comments will be moderated. Keep comments relevant to the article. Remarks containing abusive and obscene language, personal attacks of any kind or promotion will be removed and the user banned. Final decision will be at the discretion of the Taipei Times.