Nation's youth favor pragmatism: poll
The nation's youth have a strong Taiwanese identity and favor a pragmatic policy approach toward China, Taiwan Foundation for Democracy president Hsu Szu-chien (徐斯儉) said yesterday.
There is little evidence that Taiwanese youth are highly satisfied with President Tsai Ying-wen's (蔡英文) policy, he said.
Hsu made the remarks at a Global Taiwan Institute conference chaired by its executive director, Russell Hsiao (蕭良其), which International Republican Institute president Daniel Twining and Sunflower movement leader Lin Fei-fan (林飛帆) also attended.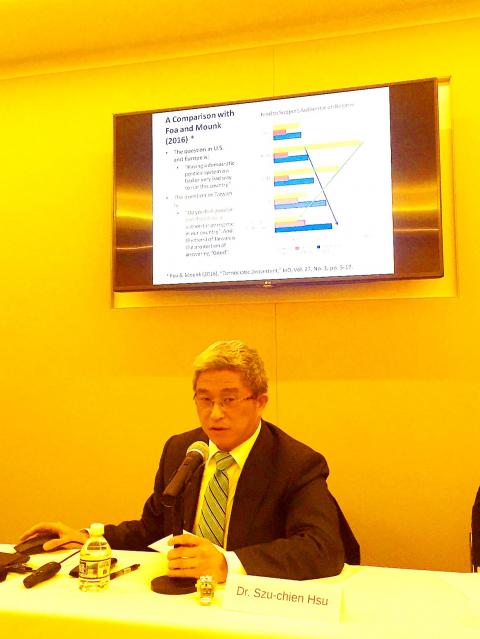 Taiwan Foundation for Democracy president Hsu Szu-chien speaks at a Global Taiwan Institute conference in Washington yesterday.
Photo: Nadia Tsao, Taipei Times
Citing a poll by National Chengchi University's Election Study Center commissioned by the foundation, Hsu said Taiwanese youth have a strong commitment to democratic values and national defense.
While Taiwanese aged 20 to 29 are highly nationalistic in their identification with Taiwan, they are also more strongly committed to maintaining the cross-strait "status quo" than those in other age groups, he said.
Their support for maintaining the "status quo" is stronger than their support for Taiwanese nationalism, he added.
The attitude of Taiwanese youth, often described as "congenital pro-independence," is more accurately described as "anti-unification," he said.
The general impression in Washington of Taiwanese youth has been that they mostly lean toward independence, but lack the commitment to militarily defend the nation, leading to accusations that they provoke China recklessly, Hsu said.
The foundation commissioned the poll to investigate the veracity of such claims, he added.
The poll, which was conducted from February to last month, gathered 825 valid samples from respondents 39 or younger and 747 valid samples from respondents 40 or older, he said.
Various polls conducted since 2011 have shown that respondents aged 20 to 39 are more likely to agree — by a margin of more than 86 percent — with the statement that although democracy has its flaws, it is the best of all political systems, Hsu said.
This level of support for democracy is greater than that of any other age group, he said.
Optimism for Taiwan's democracy over the next decade has declined within this age group, from 58 percent in 2001 to 41.1 percent this year, but Taiwanese youth are still more optimistic about democracy than other age groups, Hsu said.
Taiwanese youth have demonstrated far less support for dictatorships or authoritarianism than people in the same age group in European countries or the US, he added.
Among people 39 or younger, 65.5 percent support maintaining the cross-strait "status quo," 10.4 percent support unification and 23.5 percent support independence, Hsu said, adding that among people 40 or older, support for these positions are 59.3 percent, 20.1 percent and 14.7 percent respectively.
A total of 63.4 percent of respondents 39 or younger expressed a willingness to go to war should China declare war on Taiwan following a declaration of independence, while 32.6 percent were opposed, he said.
Should China preemptively attempt to annex Taiwan by force, the number of people 39 or younger willing to fight increased to 70.3 percent, while those unwilling decreased to 26.5 percent, he added.
Identification with democratic values is helpful to increasing Taiwan's national will to resist Chinese aggression, Hsu said.
Comments will be moderated. Keep comments relevant to the article. Remarks containing abusive and obscene language, personal attacks of any kind or promotion will be removed and the user banned. Final decision will be at the discretion of the Taipei Times.