DPP staggering pension cuts, sparing private sector ahead of elections: KMT
The Democratic Progressive Party (DPP) should implement its planned pension cuts for private-sector workers concurrently with those for retired military personnel, civil servants and public-school teachers to ensure that pension reforms are conducted in an equitable manner, Chinese Nationalist Party (KMT) lawmakers said yesterday.
DPP caucus whip Ker Chien-ming (柯建銘) last month said that no timetable had been set for pension cuts in the private sector.
DPP lawmakers speaking on condition of anonymity have conceded that with the year-end elections, pushing through private-sector pension cuts would do the party a disservice and could cause its "downfall," KMT caucus whip Lin Te-fu (林德福) said.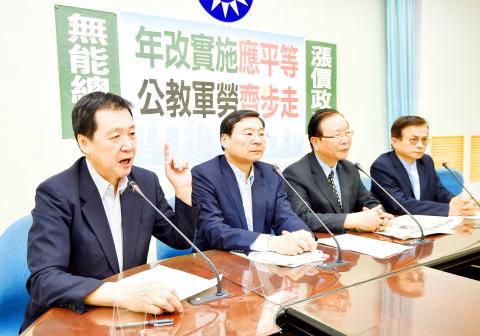 Chinese Nationalist Party (KMT) legislators Alex Fai, William Tseng, Lin Te-fu and Lai Shyh-bao, left to right, attend a news conference in the Legislative Yuan yesterday.
Photo: Peter Lo, Taipei Times
If so, the DPP is pursuing "biased" pension reforms by "going after the easy targets," Lin said.
The Cabinet has said that pension reforms for the three groups of retired public employees will take effect on July 1.
The KMT would support pension reforms if cuts were implemented simultaneously for retired military personnel, public servants, public-school teachers and private-sector workers, KMT caucus deputy secretary-general William Tseng (曾銘宗) said.
He called on the DPP to honor the conclusion reached at a meeting of the Presidential Office's Pension Reform Committee in January last year that all pension reforms would be implemented at the same time.
KMT lawmakers Alex Fai (費鴻泰) and Wang Hui-mei (王惠美) urged the DPP to weigh its priorities when allocating budgets before introducing pension cuts.
Pension cuts for civil servants and public-school teachers — which were approved by the legislature in June last year — are expected to save the government between NT$20 billion and NT$30 billion (US$686 million and US$1.03 billion) each year, Fai said.
If the DPP would scrap plans to open the new coal-fired Shenao Power Plant, stop maintaining the shuttered Fourth Nuclear Power Plant in New Taipei City's Gongliao District (貢寮) and not carry out the Forward-looking Infrastructure Development Program, it would save the nation NT$800 billion, enough to keep the pension system afloat for several decades until the government comes up with a better reform plan, they said.
More than a year has passed since Minister Without Portfolio Lin Wan-yi (林萬億) promised the "800 Heroes" group of military veterans that the government would communicate and coordinate with them before proposing pension cuts for veterans, KMT Legislator Lai Shyh-bao (賴士葆) said.
Lin has not delivered on his promise, even though the Cabinet could submit its draft bill on the pension cuts for veterans to the legislature for review any moment, Lai said.
The DPP clearly devised the pension reforms to benefit the party ahead of the elections, but they are no less than a "persecution" of veterans, civil servants and public-school teachers, he said.
Comments will be moderated. Keep comments relevant to the article. Remarks containing abusive and obscene language, personal attacks of any kind or promotion will be removed and the user banned. Final decision will be at the discretion of the Taipei Times.