Photographer's new book honors miners
INSPIRATION: Chu Chien-hsuan said a photograph of a coal miner that he saw when he was a child shocked him, but also triggered his interest in photography
A Coal Miner's Eulogy: A History of the Taiwanese Coal Industry's Struggles began decades ago as an entry to photography contests, but evolved to become a project to tell the story of the nation's working class, photographer Chu Chien-hsuan (朱健炫) said.
The photographic essay, published in January, is made up of 160 black-and-white photographs of coal miners taken between 1983 and 1988, with short paragraphs explaining their context, Chu said.
Taiwan's last coal mine, in Sansia (三峽) in what was then Taipei County, closed in 2001.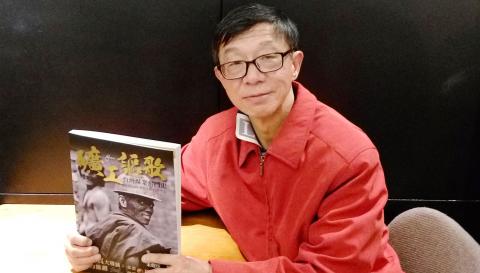 Photographer Chu Chien-hsuan holds up a copy of his latest book, A Coal Miner's Eulogy: A History of the Taiwanese Coal Industry's Struggles, on March 9.
Photo: CNA
The inspiration to document the nation's coal industry and the people who worked in it came from a photograph that he had seen when he was a child, Chu said.
"It was shocking for a city boy like me to see an image for the first time of a miner covered in black soot from head to toe," he said.
Two magazines, US-based Life and Taiwan's Human, were also major influences on his interest in photography, he said.
Thinking judges would be hooked by images that tell a human story, he made regular trips to coal mines during his time off from work and carefully cultivated relationships with miners, he said.
It was important to build a personal connection and trust because a photographer should ideally be invisible to the picture's subjects, he said.
The mines he visited ranged from Taipei County's Tucheng (土城), Pingsi (平溪) and Rueifang (瑞, as well as Jianshi (尖石) in Hsinchu County, a project he continued until 1991, he said.
However, his motivation gradually changed from winning photography prizes to giving voice to the nation's miners, Chu said.
"The deeper I got into it, the more I felt about the tragedy of miner families. I saw many families where the children had to raise themselves, because they lost their fathers in mining accidents," he said.
His photographs reveal aspects about coal mining that were often overlooked, such as the industry's reliance on women for most of the work done outside of the mineshafts, he said.
"Women marshaled the mine carts, sorted out different grades of coal, operated the unloading platforms and disposed of waste rock," he said.
Many people have also forgotten that the mines frequently employed Amis Aborigines as migrant workers and his camera captured many images of their wives and children, who traveled with them, he said.
Photographing coal miners was an experience in sadness and sympathy, he said, pointing to the cover image of his book, a soot-covered miner looking over his shoulders at the camera with a big grin.
"On his face, you see the miner's grit and hardship. There was a saying that when a miner was down in the shaft, his life belonged to the earth gods. Only when he came out of the shaft was his life truly his own," Chu said.
Comments will be moderated. Keep comments relevant to the article. Remarks containing abusive and obscene language, personal attacks of any kind or promotion will be removed and the user banned. Final decision will be at the discretion of the Taipei Times.