Shenao reconstruction would imperil local ecosystem, conservationist says
State-run Taiwan Power Co's (Taipower) plan to "upgrade" the Shenao (深澳) Power Plant in New Taipei City's Rueifang District (瑞芳) would cause irreversible damage to the marine ecosystem off Shenao Bay, senior diving coach Wang Ming-hsiang (王銘祥) warned.
The utility's plan to rebuild the plant, which stopped operations in 2007 and was torn down, was on Wednesday last week approved by the Environmental Protection Administration (EPA) to loud criticism from environmental groups and local authorities.
Wang, who is devoted to marine conservation and helped establish the Chaojing Bay Conservation Area (潮境公園) in Keelung, said the project's planned coal delivery dock and water discharge tubes might imperil the local marine ecosystem.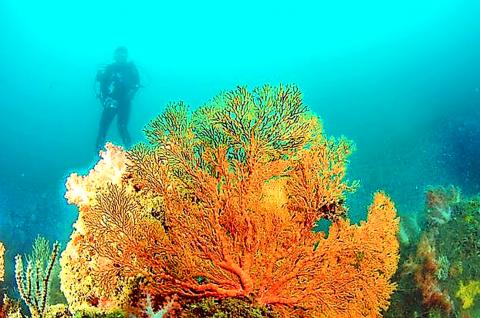 A diver swims near a coral formation in a photograph provided by senior diving coach Wang Ming-hsiang.
Photo courtesy of Wang Ming-hsiang
The dock would force the sea currents off Shenao Bay to change direction, which would affect marine life at nearby Chaojing Bay and Fanzaiao Bay (番仔澳灣), he said.
The water discharge tubes would also be consequential, because the developer would have to use toxic chemicals to clean the tubes to prevent shell animals from blocking them — another "disaster" for sea creatures, he said.
Over the past decade, the Fisheries Agency's efforts to restore marine life off Shenao Bay have proved successful, but the restart of the Shenao plant would affect the habitat of fish as well as the living of local fishers, he said.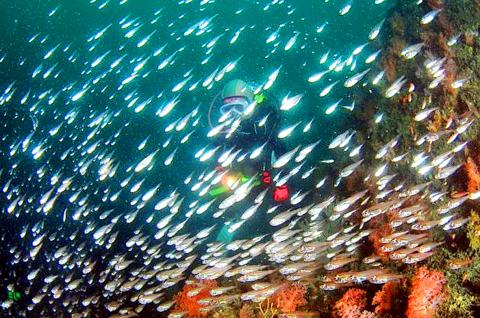 A diver swims among a school of fish in a photograph provided by senior diving coach Wang Ming-hsiang.
Photo courtesy of Wang Ming-hsiang
"How could the government turn a blind eye to my [demonstration] photographs?" said Wang, who displayed the images of corals and the rarely seen striped breakperch at the EPA's meeting on Wednesday last week.
The ocean off Shenao Bay is truly the "gem of the north" and it would be destroyed if the plant is rebuilt, Wang said.
Comments will be moderated. Keep comments relevant to the article. Remarks containing abusive and obscene language, personal attacks of any kind or promotion will be removed and the user banned. Final decision will be at the discretion of the Taipei Times.