Brimstone Hill Featured at 2018 Taipei City Lantern Festival
Iconic Brimstone Hill, a UNESCO World Heritage Site located in the twin-island Federation of Saint Christopher (Saint Kitts) and Nevis is illuminating the Taipei sky at this year's Taipei City Lantern Festival. Brimstone Hill Fortress, which is one of the most visited tourist attractions on the island of Saint Kitts has also piqued the interest of the millions of visitors to this year's event. With its cannons sitting atop the structure which rises 400 cm above the ground at the intersection of Zhonghua Rd and Wuchung Street, the replica is almost as imposing in Taipei as it is in Saint Kitts.
At a press conference attended by Taipei City Deputy Mayor Deng to promote the event, H.E. Ambassador Jasmine Huggins stated that the Embassy seized on the opportunity to promote her country and its tourist attractions to the over 5 million Taiwanese citizens who will be visiting the Lantern festival over the 9-day event. "This is an excellent platform for tourism promotion and it also provides an opportunity for the citizens of this great country Taiwan, to learn more about one of its diplomatic allies, and the enduring image of the fortress is similar to the enduring nature of our relationship which began 35 year ago at the dawn of our Independence" Ambassador Huggins said. "It also forms a bridge between our two countries by bringing together an important cultural event in Taiwan and a significant historical monument in Saint Kitts and Nevis and we hope that as the citizens here learn more about Saint Kitts and Nevis they will be inspired to visit our country."
The prominent Fortress, which at 800 feet high provides a panoramic view of some of the neighboring islands in the Caribbean, is one of the finest surviving examples of the ingenuity of British military engineers and the skill and endurance of the African slaves who built and maintained it. Brimstone Hill gained UNESCO World Heritage status in 1999 and continues to be a source of immense pride for the citizens of Saint Kitts and Nevis. The Ambassador further took the opportunity to commend the Taipei City government for the excellent organization of the event and expressed her appreciation to the Ministry of Foreign Affairs Taipei for their support. 2018 is the Year of the Dog and the main lantern which is comprised of three Taiwanese "Magical Dogs" representing "Go Forward, Go Together and Go Future" is also symbolic of relations between Saint Kitts and Nevis and Taiwan Ambassador Huggins concluded.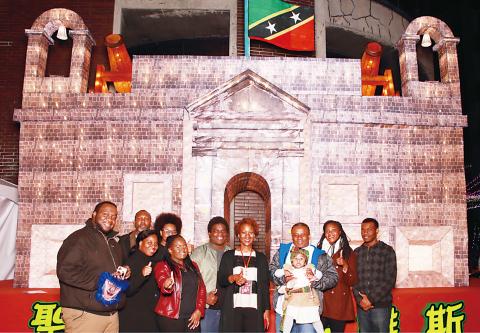 H.E. Ambassador Jasmine E. Huggins, center, with students and Nationals from Saint Christopher (Saint Kitts) and Nevis.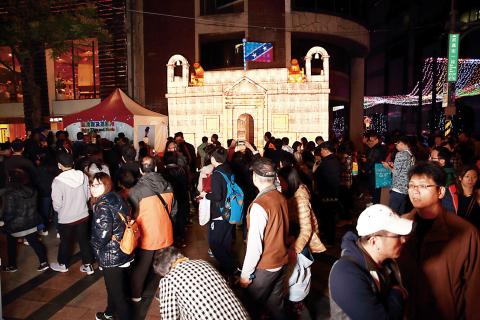 Comments will be moderated. Keep comments relevant to the article. Remarks containing abusive and obscene language, personal attacks of any kind or promotion will be removed and the user banned. Final decision will be at the discretion of the Taipei Times.