Public bicycle users to receive insurance coverage this year
Users of public bicycle systems in Taipei, New Taipei City, Taoyuan and Kaohsiung are to enjoy free insurance beginning in the second quarter of this year, the Non-Life Insurance Association of the Republic of China said yesterday.
The association said public bicycle insurance can be divided into two types: third-party liability and personal injury.
Taipei, New Taipei City and Taoyuan are to purchase third-party liability insurance, meaning users of public bicycles in the three municipalities would be covered should they get into an accident or cause injury to other people while riding the public bikes, the association said.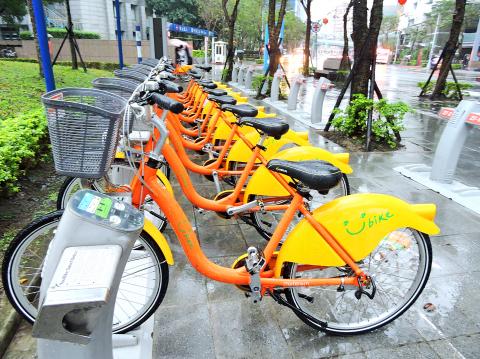 Bicycles belonging to the YouBikes public bicycle sharing system are lined up at a designated parking rank in New Taipei City on Feb. 3.
Photo: Lai Hsiao-tung, Taipei Times
The compensation for the death of a third party caused by a bike rider would be a maximum of NT$2 million (US$68,251).
Kaohsiung, on the other hand, is to purchase a personal injury insurance policy that would disburse up to NT$1 million in compensation in case of death or disability of riders due to accidents that occur while cycling, as well as NT$1,000 for each day of hospitalization.
There are about 13,000 public bicycles in Taipei, 11,000 in New Taipei City and 4,700 in Taoyuan, the association said, adding that the number in Kaohsiung was yet to be determined.
The annual premium for third-party liability insurance would be about NT$400 per bicycle, while the price of Kaohsiung's personal injury insurance would be slightly higher, but has not yet been decided, the association said.
The four municipalities are to pay for the coverage and the public would not need to pay any insurance fees, it added.
Both forms of insurance are to be administered by Cathay Century Insurance Co and coinsured by 15 property insurance companies, the association said.
Comments will be moderated. Keep comments relevant to the article. Remarks containing abusive and obscene language, personal attacks of any kind or promotion will be removed and the user banned. Final decision will be at the discretion of the Taipei Times.