Taiwanese growers win prizes at orchid show in Japan
This year's Japan Grand Prix International Orchid Festival floral competition opened yesterday in Tokyo with participants from 21 countries, including six from Taiwan.
A total of 2.5 million flowers were submitted to the competition, comprising 3,000 varieties of orchid, organizers said.
This year is the 28th year the Grand Prix International Orchid Festival has been held in Japan, and Taiwanese flower enthusiasts have participated every year since it started.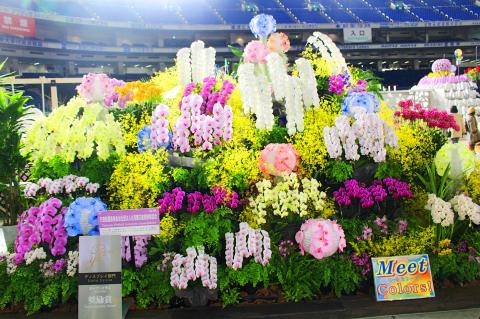 An orchid display by the Taiwan Orchid Growers' Association won a consolation prize at the Japan Grand Prix International Orchid Festival yesterday in Tokyo.
Photo: Lin Tsuei-yi, Taipei Times
Six of the nation's orchid nurseries cooperated in this year's competition, with the Taiwan Orchid Growers' Association (TOGA) and Taida Horticultural Co receiving consolation prizes at the event.
Masahiro Saito, a doctor from Ibaraki Prefecture, again took the grand prize, his fourth. Saito spent 20 years cultivating the Marta's Grammatophyllum, a species of orchid native to the Philippines.
The full bloom of Saito's flowers on a cold February day caused astonishment among competition attendees and judges.
Saito, who has won more grand prize awards historically at the event than any other Japanese, said that keeping the flowers warm was a huge expense for him.
Taiwan has obtained the rights to host the competition and plans are under way to host the event in Taichung in 2020.
This year's theme was "tropical paradise," with attendees invited to visit a "plantation within the city," the organizers said.
Appearing at the competition for the first time this year was the bearded Bulbophyllum, a small hairy orchid species that is native to central and western Africa. The flower is commonly known in Japan as the "dancing orchid."
Former TOGA chairperson Kao Chih-ching (高紀清) and owner of the Ching Hua Orchids took Darwin's orchids — a species endemic to Madagascar — to the competition.
The flowers, also known as comet orchids, grow to about 30cm in length from the stem and have long petals that give them the appearance of a comet.
The orchid show runs until Friday next week.
Comments will be moderated. Keep comments relevant to the article. Remarks containing abusive and obscene language, personal attacks of any kind or promotion will be removed and the user banned. Final decision will be at the discretion of the Taipei Times.