Chunghwa Post issues fifth Year of Dog stamps
NEW YEAR WISHES: This year's set features three designs, including one of a golden dog to symbolize the departure of the old and the arrival of good fortune
While many look forward to the Lunar New Year holiday as a time for feasting and gift-giving, philatelists welcome its advent as a chance to collect Chunghwa Post's annual Chinese zodiac stamp collection, with this year's issue celebrating the Year of the Dog.
"It has become a trend for countries around the world to roll out stamps featuring the year's Chinese zodiac sign," Chunghwa Post stamp collection division director Chien Liang-lin (簡良璘) said.
Aside from Singapore, South Korea, Japan and Vietnam, where the Chinese zodiac signs are deeply rooted in their culture, culturally diverse nations like the US, Canada and France have also printed stamps depicting the animal signs, Chien said.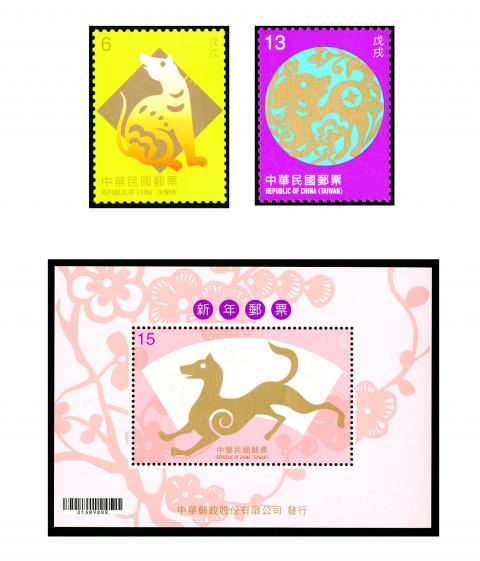 An undated photo shows stamps issued by Chunghwa Post this year marking the Year of the Dog.
Photo courtesy of Chunghwa Post
In Taiwan, the first Chinese zodiac-themed stamp set was issued in 1968, which was the Year of the Rooster.
Since then, Chunghwa Post has been launching an annual stamp collection based on the Chinese zodiac sign of the year. As the same sign appears only once every 12 years, the products quickly sparked a collection craze.
The Chinese zodiac-themed stamps are very popular because people like to use them to send out Lunar New Year greeting cards, Chien said, adding that they usually achieve a sales rate of 90 percent.
This year was the fifth time the postal company has issued a dog-themed stamp set, she said, but it was the first time it has collaborated with its French counterpart to also print the collection overseas.
This year's stamp collection was designed by National Taiwan Normal University's College of Arts dean Lin Chun-liang (林俊良), featuring different designs for NT$6, NT$13 and NT$15 stamps.
The NT$6 stamp depicts a golden dog to symbolize the departure of the old and the arrival of good fortune, while the NT$13 stamp features a dog and a peony, both of which symbolize prosperity or wealth.
The NT$15 stamp features a high-spirited golden dog against a light pink background to showcase the traditional holiday's festive spirit.
Chien said the first dog-themed stamp collection was issued in 1969 and designed by Yan Chi-shih (顏奇石).
It featured a popular purebred to symbolize loyalty, a quality usually associated with dogs.
The second dog-themed collection was printed in 1981. The designer, Chuang Chu-mei (莊珠妹), combined a stylized illustration of a dog with the Mandarin character quan (dog, 犬) written in seal script.
The design was meant to convey traditional Chinese ideals of reunion and harmony, Chien said.
In 1993, Tsao Chun-yan (曹俊彥) was tasked with designing the third dog-themed stamp collection. His geometric-shaped dog illustrations conveyed a childlike naivete.
The fourth version was published in 2005, with Wu Jen-feng (巫仁鳳) and Ko Hung-tu (柯鴻圖) jointly designing a collection of stamps that featured a pack of dogs and Lunar New Year couplets to signify harmony and get people into the holiday spirit.
In an effort to increase the appeal of this year's stamp collection, Chien said it contains 20 stamps each for the NT$6 and NT$13 stamps, as well as nine NT$15 stamps, which are stored in a specially designed cylinder.
Comments will be moderated. Keep comments relevant to the article. Remarks containing abusive and obscene language, personal attacks of any kind or promotion will be removed and the user banned. Final decision will be at the discretion of the Taipei Times.