Polygraph expert aims to increase use of forensics
The nation's leading polygraph specialist, Lin Ku-ting (林故廷), said he last year became chief of the New Taipei City Police Department's Sijhih Precinct (汐止) to help introduce forensic technology to police work.
Lin, a US-trained polygraph technician, played a role in the investigation into sabotage of the Taiwan Railways Administration's South Link Line from 2004 to 2006 and the Mama Mouth Cafe double homicide in 2013.
He also worked on the department's analytical tool that cross-references forensic evidence, for which he last year received the Executive Yuan Award for Outstanding Contributions in Science and Technology.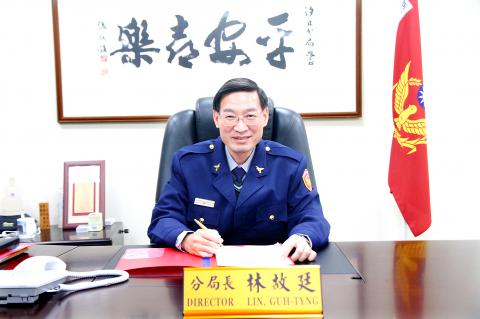 New Taipei City Police Department Sijhih Precinct director Lin Ku-ting sits at his desk on Tuesday last week. Photo: Wu Sheng-ju, Taipei Times
Lin said that he developed an affinity for polygraphic work while studying at the Central Police University, which led then-National Police Administration forensic science director Wong Ching-hui (翁景惠) to send him to the US to obtain a license, making him one of the nation's first polygraph technicians.
Working closely with US experts as a crime scene investigator, he was able to integrate polygraph technology into Taiwanese law enforcement, which has been a boon to criminal investigations, he said.
Modern lie-detection methodology has contributed to the successful resolution of several high-profile cases, Lin said.
Polygraph tests have prevented wrongful convictions, such as clearing of suspicion several airmen who were wrongfully accused of stealing weapons from an armory in Taoyuan in 1999, he said.
During the hunt for the South Link Line saboteurs, he told police to release a male suspect surnamed Hsieh (謝) after polygraphs suggested his innocence, which angered detectives, Lin said.
However, as investigators later identified the culprits, the detectives' attitude changed from hostility and anger to gratitude, he said.
In 2016, Lin was appointed director of the department's forensic science center, where he headed the creation of the analytical tool that utilizes databases and surveillance footage to solve crimes.
Last year, he transferred to the Sijhih Precinct to become its chief.
The field of forensic science needs new blood, he said.
"I want to integrate public security and traffic data from the front lines and bring change to policing. As police increasingly depend on scientific methods, experts should take their knowledge to the streets," Lin said.
He is also giving anti-drug speeches at schools and inviting junior court judges to talk with teachers and students, he said.
Reducing the barriers between law enforcement and school campuses is an urgent task for anti-drug efforts, he added.
Comments will be moderated. Keep comments relevant to the article. Remarks containing abusive and obscene language, personal attacks of any kind or promotion will be removed and the user banned. Final decision will be at the discretion of the Taipei Times.