DPP risks Taipei councilors if mayor is ignored: Yao
The Democratic Progressive Party (DPP) would lose a number of Taipei city councilor seats if it gives up on the city's mayoral election, DPP Legislator Pasuya Yao (姚文智) said yesterday.
"A large number of DPP supporters disapprove of Taipei Mayor Ko Wen-je (柯文哲) and want to part ways with him. This sentiment could upset the election of DPP Taipei city councilor candidates" if the DPP does not nominate its own mayoral candidate, said Yao, who was campaigning at Dongmen Market in the city's Zhongzheng District (中正) for the DPP mayoral nomination.
The comment was in agreement with political commentator Yao Li-ming (姚立明), who on Monday said that the DPP would lose at least five city councilor seats if it gives up the mayoral election, and that the DPP's participation in the mayoral election would be key to its survival in the constituency.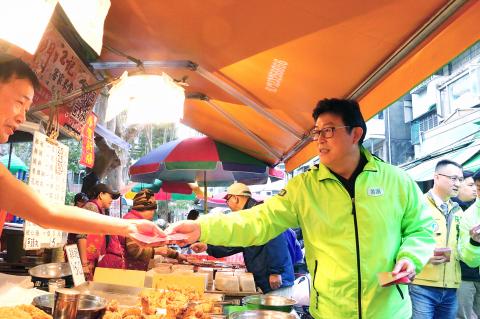 Democratic Progressive Party Legislator Pasuya Yao, right, hands out leaflets at Dongmen Market in Taipei's Zhongzheng District yesterday as he campaigns for the party's mayoral nomination.
Photo courtesy of Pasuya Yao's office
To avert a major defeat, the DPP must boost its voter turnout in the city, which could only be achieved by nominating its own mayoral candidate, Pasuya Yao said.
The capital's election differs from other local elections, as Taipei residents evaluate candidates based on their vision and philosophy, Pasuya Yao said, adding that the DPP has a chance to win the mayorship and all its city councilor seats, but if it gives up the mayoral nomination and renews its alliance with Ko, the party's supporters would also give up.
DPP Taipei City Councilor Hsieh Wei-chou (謝維洲) said a large number of senior DPP supporters threatened to abstain from voting in the councilor election if the party does not nominate a mayoral candidate.
According to an opinion survey commissioned by Pasuya Yao and completed on Feb. 2, 62 percent of DPP supporters disapproved of Ko, while 76.2 percent said the party should nominate its own mayoral candidate and 64.4 percent expressed support for Pasuya Yao's bid.
Pasuya Yao also criticized Ko's city management, saying that the three-decade delay in reconstructing the aging market is just one example of his government's inefficiency in leading traditional market renovation efforts.
The city government should have launched an urban renewal project to rebuild the market and the surrounding private properties into a commercial and residential complex, but it has shifted the responsibility of negotiating with residents to local borough wardens, Pasuya Yao said, adding that if he were elected, he would proactively lead urban renewal projects.
Comments will be moderated. Keep comments relevant to the article. Remarks containing abusive and obscene language, personal attacks of any kind or promotion will be removed and the user banned. Final decision will be at the discretion of the Taipei Times.