Hualien Earthquake: I thought I would die: quake survivor
It was an ordinary day for Lee Sheng-lung (李昇隆), who had checked into the Beauty Inn in downtown Hualien, as usual, after he arrived in the city on Tuesday on a business trip.
However, it turned out to be a day he would never forget.
That night, while Lee was relaxing in bed reading some documents, everything around him began to shake and rattle in a magnitude 6.0 earthquake.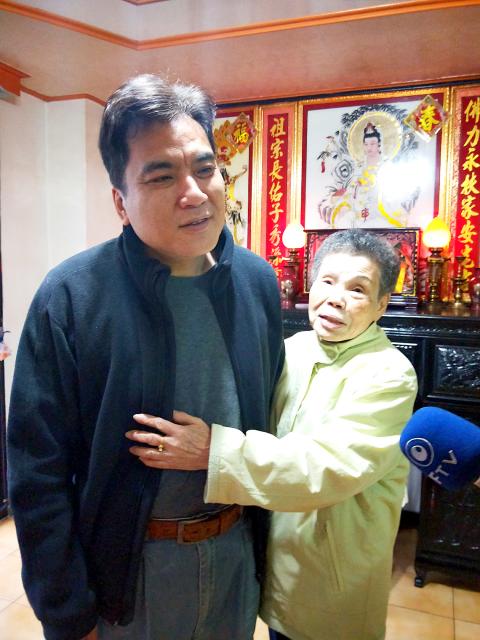 Earthquake survivor Lee Sheng-lung, left, is embraced by his octogenarian mother at their home in Keelung on Thursday.
Photo: Lu Hsien-hsiu, Taipei Times
"I thought to myself, I am definitely dead this time," Lee said on Wednesday.
Within a few seconds his room went pitch black, then the ceiling collapsed, the bed started tilting and the three floor-to-ceiling windows in the room imploded, he said.
"It was like bomb blast," Lee said, adding that he heard people in other rooms screaming for help.
Because the tremors became violent so quickly he had no time to take cover and could only grab a blanket to protect his head, Lee said.
When the building stopped shaking, Lee said he heard a message alert on his smartphone, which lit up the screen, allowing him to quickly find it in the dark.
"He saved my life," Lee said, referring to the friend who had sent him the message.
Using the screen light on his phone, Lee spread a blanket on the floor to avoid stepping on broken glass and managed to make his way out of the building, he said.
Lee said he was helped by a series of fortunate events, starting with his room allocation.
He had booked a room on the first floor, but on Tuesday, he was assigned one on the second floor, he said. That saved his life because when the quake struck, the first floor of the building was almost completely squashed.
In another stroke of luck, the building tilted on its foundations so his room was on the side lower to the ground, which made it easier to escape, he said.
At the end of the ordeal, Lee had only minor injuries — cuts on his hands and feet, and an injury to his torso that was caused by a falling wood beam.
Many others were not so lucky. At least nine people died in the hotel and many sustained serious injuries.
"The gods have really blessed me," Lee said.
When Lee returned to Keelung on Wednesday, he immediately went to a temple to burn incense and worship, he said.
At least 12 people died in the earthquake, 278 were injured and five remain unaccounted for, said the Central Emergency Operations Center, citing data valid as of press time last night.
All five of the missing people were guests at the Beauty Inn, which occupied the first three floors of the Yun Men Tsui Ti (雲門翠堤) building.
Comments will be moderated. Keep comments relevant to the article. Remarks containing abusive and obscene language, personal attacks of any kind or promotion will be removed and the user banned. Final decision will be at the discretion of the Taipei Times.