Athletes prepare for Pyeongchang
SPORTS ADMINISTRATION: The Ministry of Education has passed amendments to the Enforcement Rules of the National Sports Act to ensure oversight of elections
Four athletes are to represent Taiwan at the Pyeongchang Winter Olympic Games in South Korea, which open on Friday next week.
Luger Lien Te-an (連德安) and speed skaters Huang Yu-ting (黃郁婷), Sung Ching-yang (宋青陽) and Tai Wei-lin (戴瑋麟), as well as three coaches are to form the Taiwanese delegation, the Sports Administration said yesterday.
Lien accepted Taiwan's Olympic flag from Sports Administration Director-General Lin Te-fu (林德福) on behalf of the delegation after Lin first presented it to Chinese Taipei Olympic Committee president Lin Hong-dow (林鴻道), a symbolic gesture meaning that the athletes are officially representing Taiwan at the Games.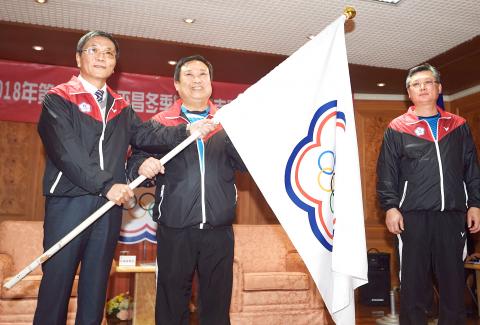 Sports Administration Director-General Lin Te-fu, left, yesterday presents the Olympic flag to Chinese Taipei Olympic Committee president Lin Hong-dow at a news conference in Taipei to honor the athletes who will represent the nation at the Pyeongchang 2018 Olympic Winter Games.
Photo: Fang Pin-chao, Taipei Times
Taiwan, because of its climate, does not have proper training facilities for athletes competing in winter sports, so most of them train overseas, Lin said.
Lugers have to put wheels on their sleds when they train in Taiwan, which makes Lien's qualifying for the Games even more admirable, Lin said.
The Games include sports such as Alpine skiing, biathlon, bobsled, cross-country skiing, curling, figure skating, freestyle skiing, ice hockey, luge, Nordic combined, short-track speed skating, skeleton, ski jumping, snowboarding and speed skating.
It is the second Olympics to be hosted by South Korea, which hosted the 1988 Seoul Summer Olympic Games.
In the related news, the Sports Administration said that it has established a task force to oversee sports associations' elections.
The task force is to be led by two of the agency's deputy director-generals and task force members would be independent experts, it said.
Meanwhile, when a sports association holds an election, a lawyer and a representative from the Sports Administration would oversee the election.
To ensure that the elections proceed in an open, just and transparent manner, and relieve the burden on sports organizations, the agency is to use Taipei-based Zhong Zheng Elementary School, which is next to its headquarters, for elections.
In addition, regulations for the oversight of elections have been stipulated and elections are to be filmed, it said.
The Ministry of Education has approved amendments to the Enforcement Rules of the National Sports Act (國民體育法施行細則), Lin said.
Based on the rules, elections for board directors and supervisors should be conducted using the limited voting system, Lin said.
Comments will be moderated. Keep comments relevant to the article. Remarks containing abusive and obscene language, personal attacks of any kind or promotion will be removed and the user banned. Final decision will be at the discretion of the Taipei Times.