Ex-vice president mulling mayoral run
LAST FRONTIER: Former vice president Annette Lu said Taipei needs a leader who identifies strongly with Taiwan to guard the capital — and that she would 'jazz it up'
Former vice president Annette Lu (呂秀蓮), a member of the Democratic Progressive Party (DPP), yesterday said she is considering seeking party nomination for the Taipei mayoral election on Nov. 24.
Considering the perceived falling-out between the DPP and Taipei Mayor Ko Wen-je (柯文哲) — to whom the DPP yielded the candidacy for the 2014 Taipei mayoral race — she would be "doing the right thing" by seeking the nomination, Lu told reporters at a meeting with DPP Taipei city councilor candidates for the Zhongzheng (中正)-Wanhua (萬華) and Zhongshan (中山)-Datong (大同) constituencies in Taipei.
Lu said she informed President Tsai Ing-wen (蔡英文), who doubles as DPP chairperson, of her desire to run two months ago, adding that she entertained the idea of running even before the 2014 Taipei mayoral election.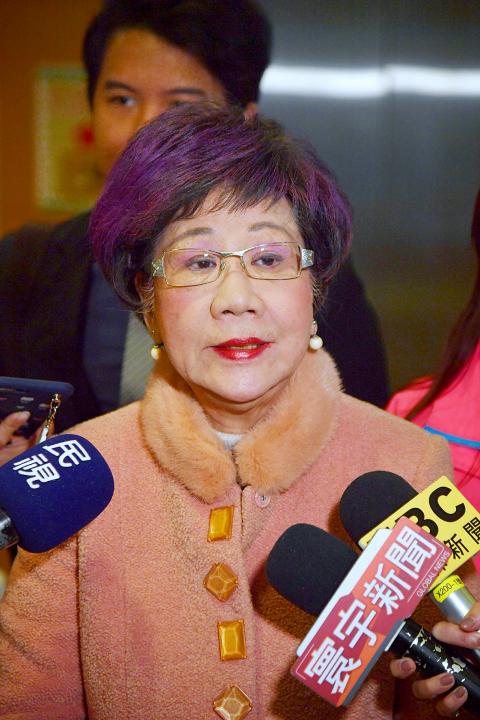 Former vice president Annette Lu yesterday in Taipei answers questions about the possibility of her running for Taipei mayor.
Photo: CNA
Lu said that Tsai likely has her priorities, considering that the DPP is holding primaries in other cities and counties, but that she would "wait very patiently" for the DPP to announce its decision on the Taipei mayoral election, which she would "absolutely respect."
Comparing Taipei to Taiwan's "last frontier," Lu said that the capital needs to be "guarded" by someone who "identifies strongly" with Taiwan.
The DPP gave Ko its unstinting support four years ago, which she respected, but as "very few" DPP members still support Ko, she would take the initiative and do the right thing, she said.
Citing her political experience, Lu said that with some thought, she would be capable of "jazzing Taipei up" in a short period of time, if given the opportunity.
Lu said she had not discussed her plans with DPP Legislator Pasuya Yao (姚文智), who announced his bid to run for Taipei mayor last year.
"We are close friends and could work out an agreement that best serves Taiwan's interest through coordination and discussion," she said.
Lu also spoke about an idea to reshuffle the nation's administrative areas into six special municipalities by merging Taipei with Keelung, New Taipei City and Yilan; Taoyuan with Hsinchu and Miaoli; Taichung with Changhua and Nantou; Tainan with Yunlin and Chiayi; Kaohsiung with Pingtung; and Hualien with Taitung.
Mountains with an altitude above 1,000m, as well as the nation's outlying islands, could be zoned as special administrative districts, she said.
The proposed administrative division would allow fairer distribution of resources, thereby helping the nation attain sustainable growth, Lu said.
Comments will be moderated. Keep comments relevant to the article. Remarks containing abusive and obscene language, personal attacks of any kind or promotion will be removed and the user banned. Final decision will be at the discretion of the Taipei Times.