INTERVIEW: Chen eyes fair fight against 'dinosaur judges'
Newly sworn in Control Yuan member Chen Shih-meng, who reported for duty yesterday, in an interview on Friday told Chinese-language 'Liberty Times' (the sister newspaper of the 'Taipei Times') staff reporter Chung Li-hua that he would focus on three types of 'dinosaur judges,' namely those who bend the law to punish pan-green camp politicians, shield pan-blue camp members and protect the Chinese Nationalist Party's (KMT) illegally acquired assets
Liberty Times (LT): What is the first investigation you are planning to conduct once you assume your duties at the Control Yuan?
Chen Shih-meng (陳師孟): I do not intend to start a war by fighting everywhere at once. I am not yet familiar with the Control Yuan's operations. I would not start with high-publicity cases, such as former president Ma Ying-jeou's (馬英九) case involving the alleged leaking of secrets, or former president Chen Shui-bian's (陳水扁) corruption case over the Longtan (龍潭) land deal.
Those cases are more difficult and any failure on my part to handle them would have a negative effect on all of the investigations that I might embark on later. So, my first investigation is designed as a full dress rehearsal for things yet to come, although I should add that I will not be wasting any effort on small fry, either.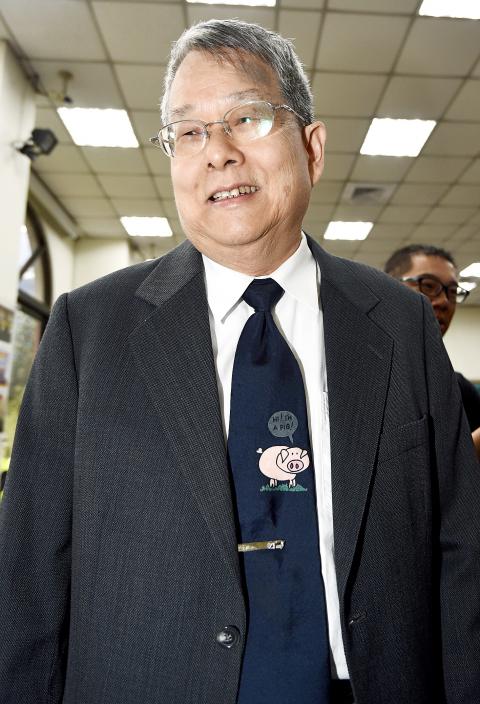 Control Yuan member Chen Shih-meng talks to reporters after being sworn in in Taipei yesterday.
Photo: Chien Jung-fong, Taipei Times
To begin with, I plan on selecting a certain case that involves Ma and Chen Shui-bian in a peripheral way. I would not at the moment bring up issues that are politically or legally divisive.
Cases of such nature would be less trying for me and more acceptable to the public. I can only say that the first case will involve issues of human rights that involve Chen Shui-bian. Although it is not one of the core cases, it is of high significance and I expect to file for the formal investigation of the case after the Lunar New Year holiday.
LT: You have said that the constitutional structure of the government should be amended to have four branches, instead of five. However, you have also said that the Control Yuan is "recyclable rubbish." Can you clarify your view about the Control Yuan?
Chen: I had previously advocated the abolition of the Control Yuan. Back then, I thought it was redundant to have the Control Yuan issuing corrections against public officials over breaking laws or negligence.
The judiciary system is already empowered to handle such issues. For negligence, there are plenty of public officials whose duty it is to make sure their subordinates do their jobs correctly. It seemed to me that having the Control Yuan was akin to putting an extra team of horses at the other end of the wagon; it muddles the powers and responsibilities of the government's various branches.
Fast-forward to two years ago, Hung Hsiu-chu (洪秀柱), the then-presidential candidate of the Chinese Nationalist Party (KMT), posted something interesting on Facebook. It was a video of a legislative question-and-answer session involving Hung and myself, at the time Presidential Office secretary-general.
Hung was unhappy with comments that I had made about the national flag [during that session] and she later reported me to the Control Yuan, which told me to reflect deeply on the errors of my ways.
Hung's video jogged my memory. After viewing it, I reviewed the Control Act (監察法) and the Constitution; this led to my discovery that the Control Yuan is empowered to correct Judicial Yuan members and judges. Suddenly, I experienced an epiphany.
Taiwan's justice system is not independent, yet judges are empowered to make life-or-death decisions. In this case, the Control Yuan's powers are a necessary check on the judiciary.
A four-branch government would still have been ideal. The UK and the US do well with just three branches.
However, they can do so because their justice system is highly independent of executive control. Their judges are elected and they have the system of trial by jury.
All those measures keep the worst excesses of judges in check. Obviously, a three-branch government is not enough to address Taiwan's present situation.
I look forward to the day when the Control Yuan can make an exit from our national scene, but the necessary conditions for this have not been met.
For Taiwan's justice system to become truly independent, the system needs a rub-down. The "dinosaur judges" have to go. As long as vermin and cancerous cells remain in our judiciary system, there will be endless trouble regardless of what judicial reform scheme we try.
LT: You have previously mentioned that you would gather a group of legal consultants. Who would this group consist of?
Chen: I have invited a group of friends who are legal professionals to form such a group. They include lawyers, judges, grand justices and legal academics, among others. I plan to meet with them once every two weeks, to ask them about things that are on my mind.
There are three kinds of "dinosaur judges" in Taiwan. The first kind bends the law to punish pan-green camp politicians, the second protects pan-blue camp members and the third protects KMT assets. My duty is to deal with these three kinds of "dinosaurs."
I will bring up these questions with the group of consultants.
After I launch an investigation I will need to write an investigation report. These things need to be done thoroughly. I will be attentive and cautious in exercising my authority. I will seek the advice of the consultants even with regard to how I carry out the investigations.
LT: What type of internal reform is needed in the Control Yuan?
Chen: In a book that was published last month I wrote that the Control Yuan needs to be comprehensively reformed. This should include the establishment of a committee to investigate the facts of historical injustices and enact their redress, and to focus on high-level political justice cases and take the initiative in prioritizing their investigation.
At the same time, this should see the reorganization of the Presidential Office's Human Rights Consultative Committee. I suggest that instead of its members being appointed by the Control Yuan president, the rules be changed so that Control Yuan members can also make suggestions regarding the appointments.
Also, when public servants are accused of misconduct, their cases are sent to the Judicial Yuan's Public Functionary Disciplinary Sanction Commission, but the commission is largely made up of judges. Facing the [prevalence of] "dinosaur judges," it is hard to avoid a situation in which officials cover up for each other and administer lenient punishments.
In 1977, then-Control Yuan member Tao Pai-chuan (陶百川) proposed that the president, the Control Yuan and the Judicial Yuan each appoint three members of the commission. Only in this way can you avoid "people investigating their own people."
Furthermore, under current regulations, allegations of misconduct are brought up by two Control Yuan members. Cases are investigated by another nine members, and the two members that brought up the case are not permitted to be involved in investigations or voting on the case. This is strange and not very rational.
I have read the Additional Articles of the Constitution (憲法增修條文) carefully and they do not stipulate any such rules.
The two individuals who brought the case are the ones who are the most familiar with it, yet they are not permitted to vote on it. This adds unnecessary hindrance to the case. I really hope these internal rules can be changed.
LT: You have been criticized for your frankness. Do you think you will change after being sworn in?
Chen: In regard to how far I will go with my speech after I am in the Control Yuan, I will need to first carefully read the Control Yuan's regulations. The Control Yuan has a disciplinary committee, and I am afraid that if I were sent to that committee I would be unable to handle any case — I would be unable to do anything.
I have rarely heard of anyone in the Control Yuan expressing their opinions or explaining the operations of the Control Yuan to anyone on the outside. However, I do not think there is any need for the Control Yuan to be overly mysterious, like a government office in feudal China.
From the beginning I always felt that this [mystery] was abnormal. The courts are moving toward greater transparency, even broadcasting sessions live.
I hope we can change the culture of the Control Yuan. Let it open its doors, do things more in touch with the public. This will increase the public's trust in the Control Yuan.
From the time I was nominated last year until now, I admit that I have said a lot of things. However, I want everyone, including my adversaries, to know a little bit more [about my intentions]. I do not hide that I plan to deal with "dinosaur judges." I do not want them to feel like they are being ambushed, or like this is a surprise attack.
Although I might come under attack from prosecutors, judges and groups of lawyers, if they are waiting for me to back down, they will be waiting forever.
Translated by staff writers Jonathan Chin and William Hetherington
Comments will be moderated. Keep comments relevant to the article. Remarks containing abusive and obscene language, personal attacks of any kind or promotion will be removed and the user banned. Final decision will be at the discretion of the Taipei Times.