Jan. 31 total lunar eclipse 'five-star event'
A total lunar eclipse that will take place on Jan. 31 will offer a combination of astronomical highlights never seen before in Taiwan in modern recorded history, the Taipei Astronomical Museum said on Friday.
Calling the eclipse a "five-star astronomical phenomenon," the museum said it will start at 6:50pm and end at 12:10am the next day, and the full sequence could be visible with the naked eye across Taiwan.
It will be the first time "people in Taiwan can experience a blood moon, a supermoon, a blue moon and a black moon in one package" since such astronomical events were last recorded in 1800, museum researcher Chang Kuei-lan (張桂蘭) said, adding that the next time this will occur is Jan. 31, 2037.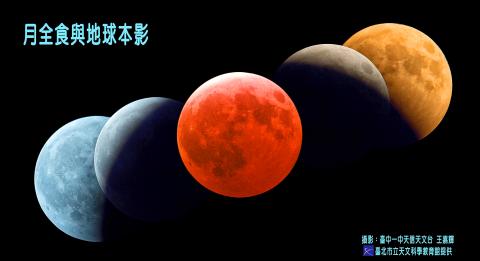 The moon is covered by the Earth's shadow in a graphic.
Photo provided by the Taipei Astronomical Museum
During the eclipse, the full moon will have a copper hue as it is gradually completely obscured by the Earth's shadow between 8:51pm and 10:08pm, the museum said.
During a total lunar eclipse, the Earth is positioned between the sun and the moon, blocking sunlight from what would otherwise be a radiant full moon.
One can see a bright full moon turn a reddish hue, hence the term "blood moon," the museum said.
However, the moon does not completely disappear during a total lunar eclipse, because sunlight is refracted into the shadow cone by the Earth's atmosphere.
This eclipse is particularly special, as it involves the second and last super moon of the year — referring to a full moon that takes place around the time of perigee, when the moon is closest to the Earth.
Since there was already a full moon on Jan. 2, the upcoming blood moon will be a "blue moon" as well, referring to the second full moon in a month.
The last time a total lunar eclipse coincided with a blue moon in Taiwan was on Dec. 30, 1982, the museum said.
As the month's second full moon falls on Jan. 31 and a complete lunar cycle usually takes about 29 days, there will be no full moon in February, making it a "black moon."
A black moon can only take place in February and occurs about every 19 years, but its classification, like a blue moon, varies from region to region due to time differences, Chang said.
A blue moon on Jan. 31 in the US, for example, would not be described as one in Taiwan, because it would be Feb. 1 in Taiwan by then, she said.
Comments will be moderated. Keep comments relevant to the article. Remarks containing abusive and obscene language, personal attacks of any kind or promotion will be removed and the user banned. Final decision will be at the discretion of the Taipei Times.