US representatives tweet against M503
'PROVOCATIONS': The tweets by US representatives Ileana Ros-Lehtinen and Sheila Jackson Lee said that China's actions threatened regional security and the status quo
US representatives yesterday made comments on Twitter in support of Taiwan regarding China's unilateral announcement of new flight routes in the Taiwan Strait.
Beijing unilaterally announced the launch of the M503 northbound route on Jan. 4 without consulting Taiwan. The route is only 4.2 nautical miles, or approximately 7.8km, west of the median line of the Taiwan Strait at its closest point.
Three Chinese east-west extension routes also introduced on Jan. 4 — designated W121, W122 and W123 — overlap with Taiwan's W6, W8 and W2 flight routes, which serve the outlying islands of Matsu and Kinmen, raising aviation safety concerns.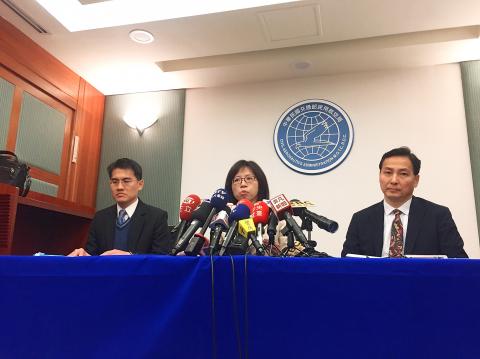 Civil Aeronautics Administration Deputy Director-General Ho Shu-ping comments on China's launch of the M503 flight routes at a news conference at the administration's headquarters in Taipei on Friday.
Photo: Chen Yi-chia, Taipei Times
"China's new flight routes around Taiwan, activated without consulting Taipei, threaten aviation security and the cross-strait status quo," tweeted US Representative Ileana Ros-Lehtinen, who previously served as the chairwoman of the US House Committee on Foreign Affairs.
"Our admin must lodge a strong complaint with Beijing and the International Civil Aviation Organization, making clear that these unilateral provocations endanger regional stability," Ros-Lehtinen added.
"China unilaterally expanding air routes near Taiwan without consulting Taiwanese authorities harms the longstanding cross-strait status quo," US Representative Sheila Jackson Lee tweeted. "Any decision involving activity across the strait should be decided by both countries."
The nation's Civil Aeronautics Administration (CAA) on Friday expressed "strong regret" over China's condemnation of Taiwan's move to put extra cross-strait flights for the Lunar New Year holiday on hold amid a dispute over the controversial M503 route.
In a statement on its official Web site, the Civil Aviation Administration of China condemned Taiwan's move to delay approval of applications by two China-based airlines to operate extra flights in protest of China's decision to launch a northbound M503 route.
The M503 route and its extension routes were approved by the International Civil Aviation Organization and entail "no safety concerns," it said.
It also said Taiwan's act of "revenge against China" would eventually hurt airlines and people from both sides of the Taiwan Strait — the rights of Taiwanese in particular — and that "the Taiwanese authority should take full responsibility for all the consequences."
In response, the CAA on Friday night issued a statement titled "If there is no trust and no aviation safety, what's the point of talking about the rights of Taiwanese business people?"
The CAA urged China to start negotiations with Taiwan as soon as possible, in line with an agreement reached by the two sides in 2015.
The CAA on Thursday said it has put on hold applications by China Eastern and Xiamen Air to fly a total of 176 additional cross-strait flights during the holiday period from Feb. 15 to 20, in response to China's launch of the M503 route, which Taiwan considers a threat to aviation safety.
Comments will be moderated. Keep comments relevant to the article. Remarks containing abusive and obscene language, personal attacks of any kind or promotion will be removed and the user banned. Final decision will be at the discretion of the Taipei Times.