Residents anxious ahead of village's 2019 relocation
CONCRETE PLAN? The Executive Yuan, the Kaohsiung mayor and many residents support the local government's plan, while some worry about not having it in writing
The relocation of residents from Kaohsiung's Dalinpu Village (大林蒲), which has been plagued by heavy air pollution, is to begin in 2019, but some residents worry that the plan has no concrete details.
Dalinpu has a population of about 10,000 and is one of the six boroughs in the coastal Siaogang District (小港).
Its history can be traced back to 1661 when subordinates of Ming Dynasty general Cheng Cheng-kung (鄭成功), also known as Koxinga, settled there. Over the past three centuries, local residents have earned their living by farming and fishing.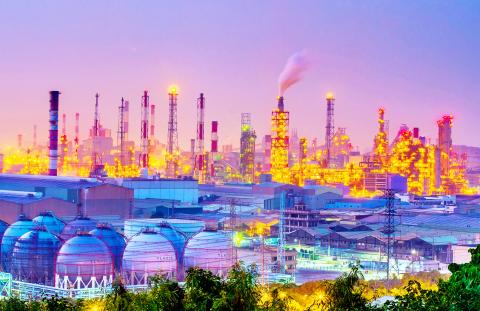 Plants surrounding Dalinpu Village are pictured on Dec. 14.
Photo: Chang Chung-yi, Taipei Times
Since being identified as an industrial area in 1960, the village has gradually changed into a place mainly known for air pollution and environmental protests.
The village is the site of 891 industrial exhaust stacks, which were successively erected by CSBC Corp Taiwan, China Steel Corp, CPC Corp, Taiwan and Taiwan Power Co, following the implementation of the Ten Major Infrastructure Projects by former president Chiang Ching-kuo (蔣經國) in 1974.
The Kaohsiung Environmental Protection Bureau monitors 428 factories through its pollution control program, with 74 of them — mainly steelmakers, metal manufacturers and processing plants that emit sulfur dioxides and fine particulate matter — located in Dalinpu, bureau data showed.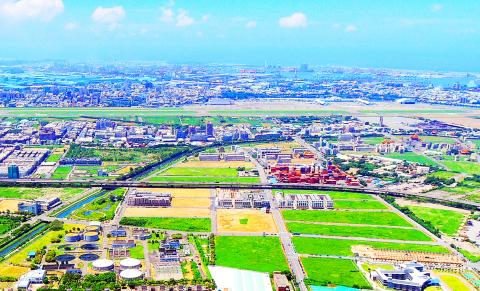 Dalinpu Village, which is located north of Kaohsiung Siaogang Airport, is pictured in an undated photo.
Photo provided by the Kaohsiung City Government Urban Development Bureau
Discussion about Dalinpu's relocation started about 25 years ago. However, not much had been done until former premier Lin Chuan (林全) in November last year visited the village and apologized to local residents for their suffering under the heavy air pollution.
The government would take immediate action to curtail air pollution and would offer favorable conditions for residents to be relocated, Lin said at the time.
The city government is to conduct the plan in three stages: conducting an opinion poll, planning work and settlement relocations and determining how the plan is to proceed from 2019 to 2022.
The residents are to be relocated to land near Hongmaogang Village (紅毛港) about 13km from Dalinpu, it said.
Now in the middle of the second stage, the city government is collecting information about local buildings, resources, history and culture; conducting health examinations among residents and assisting them to set up preparation groups.
However, some residents are worried about the progress of the plans, citing the lack of documentation.
The Executive Yuan supports the plan and is waiting for the city government to reveal more details, Cabinet spokesperson Hsu Kuo-yung (徐國勇) said.
Local residents have changed their attitude from strong distrust of the government to almost full support for the plan, which epitomizes the application of transitional justice in environmental and industrial transformation issues, Kaohsiung Mayor Chen Chu (陳菊) said, adding that she would implement the plan through the end of her term.
Comments will be moderated. Keep comments relevant to the article. Remarks containing abusive and obscene language, personal attacks of any kind or promotion will be removed and the user banned. Final decision will be at the discretion of the Taipei Times.