New Party chairman may support Ko's re-election bid
'CONDITIONAL'? If the Democratic Progressive Party nominates its own candidate for the Taipei mayoral election next year, the New Party will throw its support behind Ko
New Party Chairman Yok Mu-ming (郁慕明) said he would throw his conditional support behind independent Taipei Mayor Ko Wen-je's (柯文哲) re-election bid, saying Ko's cross-strait direction is similar to that of his party.
Yok made the remarks in response to media inquiries about next year's local elections during a gathering with New Party supporters in New York on Friday evening.
"We have our strategies for Taipei. If the Democratic Progressive Party [DPP] does not field its own candidate for the capital's mayoral election, the New Party will field one," Yok said.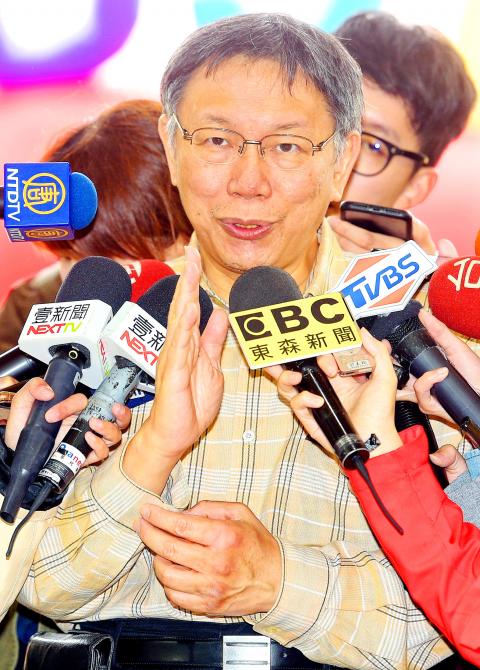 Taipei Mayor Ko Wen-je yesterday talks to reporters at an event to mark the 100th anniversary of the Taipei School for the Visually Impaired.
Photo: Chang Chia-ming, Taipei Times
If the DPP nominates its own candidate, the New Party will throw its support behind Ko, Yok said, adding that Ko's stance on maintaining cross-strait interaction corresponds with that of the New Party, a smaller Chinese Nationalist Party (KMT) spin-off that advocates for peaceful unification.
Ko, an independent who has described himself as being "deep green" on the traditional blue-green political spectrum, won the mayorship in 2014 thanks in part to the DPP's decision to cooperate with him by not nominating its own candidate.
However, Ko and the DPP have become estranged, particularly after Ko categorized the nature of cross-strait relations as "both sides of the Taiwan Strait are one family" at the 2015 Taipei-Shanghai forum in China.
As for the New Taipei City mayoral election, which has sparked intra-party infighting, Yok said he supports the potential bid by New Taipei City Deputy Mayor Hou Yu-yi (侯友宜), given his decade of effort at cultivating his influence in the city.
He also called on KMT members to refrain from fighting amongst themselves.
New Taipei City has seen two potential candidates for next year's mayoral election: One is Hou, who reportedly has the support of New Taipei City Mayor Eric Chu (朱立倫), and the other is former Taipei County commissioner Chou Hsi-wei (周錫瑋), who is said to be the pick preferred by KMT Chairman Wu Den-yih (吳敦義).
The competition prompted a group of KMT members to run a half-page letter through local media on Wednesday last week, urging Chu to "let go" so that the KMT would not have "two suns."
Chu served as KMT chairman between January 2015 and January last year, when he stepped down after losing last year's presidential election.
Ko, in response to media queries for a comment on Yok's remark, yesterday said he is not clear on what Yok meant by conditional support.
"Today is the weekend, let's not talk about politics," he said. "The job of city governments is to take care of residents' livelihoods, so I don't want to associate it with ideology, but just want to focus on doing the job properly."
Ko made the remark on the sidelines of a 100th anniversary event for the Taipei School for the Visually Impaired yesterday morning in Taipei.
At the event, he cried out several times and laughingly said that he felt more pain than soreness as he received a massage from a student trained to become a professional massage therapist.
Additional reporting by Lee I-chia
Comments will be moderated. Keep comments relevant to the article. Remarks containing abusive and obscene language, personal attacks of any kind or promotion will be removed and the user banned. Final decision will be at the discretion of the Taipei Times.