Illegal housing a 'stain on political history': Ko
The building of more than 1,000 illegal residential units in Taipei's Neihu District's (內湖) commercial zone is a stain on the nation's political history and shows that there is still a long way to go before rule of law is established, Taipei Mayor Ko Wen-je (柯文哲) said yesterday.
Ko made the statement at an anniversary event for two elementary schools in the city's Datong District (大同) yesterday morning in response to media inquiries about his remarks on the issue at Taipei City Council on Friday.
The area along Neihu's Mingshui and Jingye roads was in 1994 designated for commercial and recreational use, but up to 1,675 residential units have been built there.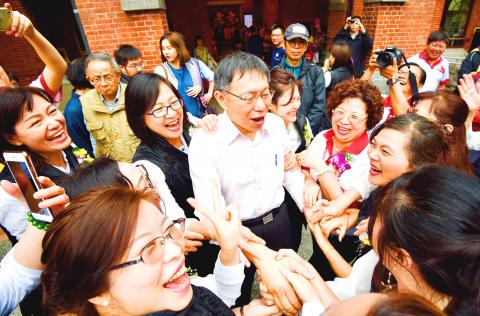 People celebrating the centenary of the Rixin Elementary School in Taipei's Datong District yesterday shake hands with Taipei Mayor Ko Wen-je, center.
Photo: Peter Lo, Taipei Times
The Taipei Department of Urban Development in March began sending administrative guidance letters informing residents that if they do not vacate the housing, they would face a fine or would lose water and electricity.
In response, residents asked several city counselors to find a better solution.
Ko on Friday said he got angry whenever he was confronted with the issue, after Democratic Progressive Party Taipei City Councilor Yan Juo-fang (顏若芳) said that the residential buildings had been granted construction permits by the city government and the residents had been allowed to pay residential rather than business taxes.
"The Taipei Construction Management Office is rotten to its roots," Ko said, adding that the case shows that "the nation's regulations are only for reference."
People will not keep to the law when the city's Construction Management Office and Revenue Service are violating regulations first, he added.
"This is a stain on the nation's political history, because the government already designated land use and zoning, but in reality, thousands of residents live in residential units built in a zone designated for commercial and recreational use," Ko said.
"When so many people can choose not to conform to a regulation, it means that we are still far from being a nation governed by the rule of law," he said, adding that the government has also been indulgent in this case.
Asked whether government officials should be punished, Ko said the problem was not caused by one or two officials and that many of them might have already left or retired.
Ko said he would continue to gather more information on the issue, including at city council question-and-answer sessions next week, before making a final decision on how to deal with the units.
However, the problem will be dealt with, he added.
Comments will be moderated. Keep comments relevant to the article. Remarks containing abusive and obscene language, personal attacks of any kind or promotion will be removed and the user banned. Final decision will be at the discretion of the Taipei Times.