Police arrest four in drug discovery
Minister of the Interior Yeh Jiunn-rong (葉俊榮) joined police chief Chen Chia-chin (陳家欽) yesterday afternoon to visit and give recognition to police in Hsinchu County who on Saturday intercepted a shipment of 660kg of chemical ingredients for the manufacture of amphetamine pills.
"Our government has implemented new measures to combat illegal drug use among young people. We urge all law enforcement agencies to actively search for the sources and supply routes of drugs, and to expose drug use among the population," Yeh said.
"The efforts must focus on exposing the ring leaders in the shadows and the people who are financing drug trafficking operations, and also on determining whether drugs are produced domestically or are smuggled in from abroad," he added.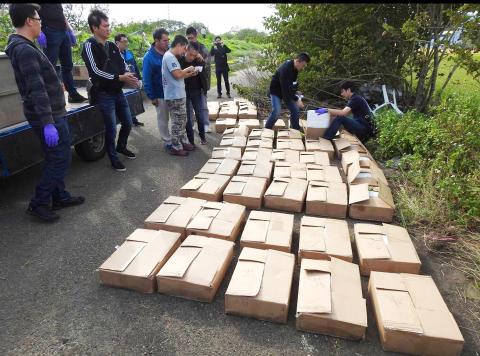 Police lay out boxes of chemical ingredients for manufacturing amphetamine pills following a coordinated operation on Saturday afternoon in Hsinchu County.
Photo: Liao Hsueh-ju, Taipei Times
The raid was carried out on Saturday afternoon during a coordinated operation involving Hsinchu County police and units from other cities, and directed by the Taipei Shilin District Prosecutors' Office.
Four suspects driving three vehicles were stopped along a provincial road in Jhubei City.
When police officers stopped the vehicles to conduct a search, they found the four were transporting 660kg of chemical derivatives of ephedrine, along with cash and equipment used to produce drugs.
All four suspects were in their early 20s and officials said that one of them, a 20-year-old man surnamed Lin (林), was the technical expert for the production of amphetamine pills.
Police officials said they were surprised to find chemical manuals at Lin's residence, which indicated that the group had advanced knowledge of amphetamine production using a shortened two-stage process that takes four days.
Traditional production using a three-stage process can take seven days, police said.
They said the seized ephedrine ingredient was also of above-average purity, at 91 percent, whereas previously seized products were about 50 to 60 percent pure.
The ingredients could be used to produce up to 528kg of amphetamine pills, police said.
Comments will be moderated. Keep comments relevant to the article. Remarks containing abusive and obscene language, personal attacks of any kind or promotion will be removed and the user banned. Final decision will be at the discretion of the Taipei Times.