Lin, Wang seek cosmetic inspection mechanism
Democratic Progressive Party (DPP) Legislator Lin Chun-hsien (林俊憲) and DPP Taipei City Councilor Wang Wei-chung (王威中) yesterday urged the government to establish an inspection mechanism to protect consumers from counterfeit cosmetic and personal care products disguised as gray market goods.
The two told a news conference that many online shops are selling the so-called parallel imported cosmetic and personal care products, mainly from Japan and South Korea, but the government does not have a mechanism to monitor the quality of these products.
"They [the online shops] intentionally sell those products produced by foreign brands that have no official dealer in Taiwan, so they can do whatever they want," Lin said. "There is no official dealer to protect the brand's trademark in Taiwan or to verify the authenticity of the products."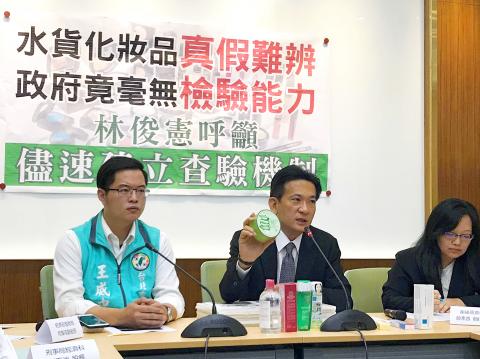 Democratic Progressive Party Legislator Lin Chun-hsien, right, yesterday holds a news conference in Taipei to criticize the government for not adequately checking parallel imported Japanese and Korean cosmetics.
Photo: Peng Wan-hsin, Taipei Times
A Taipei resident purchased a beauty product claiming to be parallel imported, but became suspicious that it was counterfeit after using it, Wang said, adding that she subsequently reported the case to the Taipei Department of Health.
However, the department responded that it could only examine whether the product contained harmful substances, but could not determine whether it was an authentic brand product, he said.
Lin said they also received a report from a consumer who had bought aloe vera gel with packaging similar to that of a South Korean brand, but later questioned the quality of the product, as the authentic product sells for NT$79 per jar with a 25 percent discount, while two jars of the purchased product cost NT$99.
The Food and Drug Administration is only authorized to deal with products that make false health claims or have harmful substances, he said, while the task of determining whether a product is counterfeit is handled by the Ministry of Economic Affairs' Intellectual Property Office — but they cannot examine products' ingredients.
Lin and Wang urged the government to establish a mechanism to protect consumers' rights and safety.
Intellectual Property Office official Ho Tsan-cheng (何燦成) said at the news conference that the office can only determine if the trademark and labels are authentic, but it is not equipped to examine a product's content.
He urged consumers to report suspicious products to the police for further investigation.
Comments will be moderated. Keep comments relevant to the article. Remarks containing abusive and obscene language, personal attacks of any kind or promotion will be removed and the user banned. Final decision will be at the discretion of the Taipei Times.