Government to lose public trust over corps case: Ger
Following a hearing on Tuesday on alleged ties between the China Youth Corps and the Chinese Nationalist Party (KMT), corps director Ger Yeong-kuang (葛永光) said the allegation would cause a loss of public trust in the government.
The hearing was the second by the Ill-gotten Party Assets Settlement Committee to probe the KMT's potential ties to the corps, which was directed by former president Chiang Ching-kuo (蔣經國) for 21 years before he was succeeded by other KMT heavyweights.
The organization would not rule out legal action if the committee deliberately overlooks evidence and forcibly rules it a KMT affiliate, Ger said.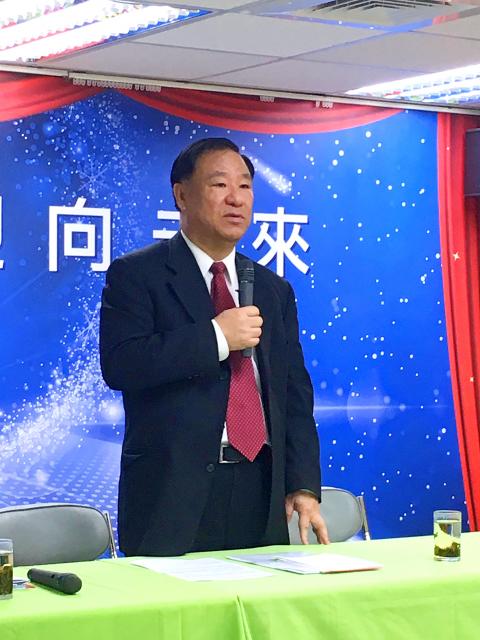 China Youth Corps director Ger Yeong-kuang yesterday holds a news conference in Taipei to clarify the rumors about his salary.
Photo: Yang Mien-chieh, Taipei Times
Ger said he was not opposed to the corps being transferred to government ownership, but added that he would organize a protest should such a decision affect the livelihood of the organization's 5,000 workers.
The corps was founded and guided by the government, with its members originally selected by the Executive Yuan, he said.
It has been run independently and is not a tool to control society, Ger said, adding that many Democratic Progressive Party (DPP) members have attended its activities.
Ger shrugged off the committee's assumption that reports delivered by former corps president Jeanne Li (李鍾桂) at meetings of the KMT Central Standing Committee about the organization's activities suggest a link.
Such an association of ties is far-fetched, Ger said, adding that he was willing to deliver reports to the DPP to help it gain a better understanding of the corps' affairs.
As a government body, the party assets committee should be fair and impartial, but chairman Lin Feng-jeng (林峰正) appears to have already made up his mind on the matter, Ger said.
The stakeholders in the case are not KMT members, but rather the organization's 5,000 workers, teachers and their families, Ger said, adding that they would all protest if their livelihood is affected.
The idea of handing control of the corps to the central government is not new, as there have been talks about merging the organization with the Ministry of Education's Youth Development Administration into a new agency, he said.
"I am open to discussions," Ger said.
While such a move would ensure better job security for the corps' staff, it might not be suitable, as they often work late into the evening, he added.
"Taiwan is a democracy, but some people want to destroy the foundation of that democracy," Ger said.
Comments will be moderated. Keep comments relevant to the article. Remarks containing abusive and obscene language, personal attacks of any kind or promotion will be removed and the user banned. Final decision will be at the discretion of the Taipei Times.