Flag not 'removed' from Web site, was never there: MOFA
The Ministry of Foreign Affairs yesterday denied allegations that it had removed the national flag from the latest version of its Web site, saying that the flag was not on the Web site during the administration of former president Ma Ying-jeou (馬英九).
The ministry issued a statement yesterday morning after Chinese Nationalist Party (KMT) Legislator Yang Cheng-wu's (楊鎮浯) office director, Huang Tzu-che (黃子哲), on Thursday accused the ministry of being an accomplice in furthering President Tsai Ing-wen's (蔡英文) "de-Sinicization" of the nation.
At a time when relations with our diplomatic ally the Dominican Republic are on shaky ground, the ministry has apparently kept itself occupied by updating its Web site, Huang said on Facebook, adding a screen shot of what he said was the earlier version of the ministry's Web site.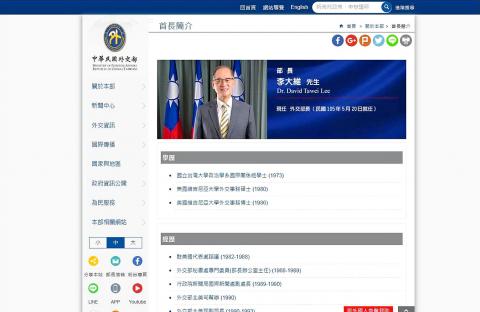 The Ministry of Foreign Affairs' revamped Web site is pictured on Thursday.
Photo courtesy of the Ministry of Foreign Affairs
The screen shot showed a blurry national flag on the banner of the ministry's Web site.
"What left me dumbfounded is that the front page of a government body that best represents the nation's sovereignty does not even have an image of our national flag," Huang wrote, adding that the national flag has become collateral damage in the Tsai administration's political manipulation.
In response, ministry spokesman Andrew Lee (李憲章) said the national flag was not incorporated on the site's design in its previous update in June 2014 to utilize the limited space to present all the necessary content.
"Allegations that we removed the flag in our latest update on Thursday are therefore untrue," Lee said, adding that the screen shot provided by Huang was a sub-page of the Web site and was from May 2013.
It has been the ministry's practice to introduce a special edition of the Web site on a handful of holidays, such as Lunar New Year, the Dragon Boat Festival, the Mid-Autumn Festival and the Double Ten National Day, Lee said.
The ministry embellished its site with images of the national flag and a "Double Ten" logo for this year's National Day celebrations from Oct. 6 through Wednesday, he said.
The national flag has long been a subject of contention between the pan-blue and pan-green camps, as some members of the latter consider the Republic of China a government in exile and deem the removal of the system a necessary step to normalize the nation.
Controversy over the flag was renewed earlier this month when the Tsai administration was criticized for its failure to include the national flag and title in this year's Double Ten National Day celebrations.
Comments will be moderated. Keep comments relevant to the article. Remarks containing abusive and obscene language, personal attacks of any kind or promotion will be removed and the user banned. Final decision will be at the discretion of the Taipei Times.