Autobiography to become heirloom
HANDWRITTEN SCROLLS: Tseng Wei-chao has also written a biography of his father, which includes details of his father's motto: 'Anything is possible, as long as you like it'
It is rare in the digital age to see someone writing anything beyond the occasional signature, so a 50,000-word handwritten autobiography by 78-year-old Tseng Wei-chao (曾維照) of Chiayi County could become his family's new heirloom.
Born to a family of Chinese medicine practitioners, Tseng took up the family trade after retiring from the navy. While not being schooled in the arts of calligraphy and Chinese traditional painting, he learned the crafts himself.
Sporting a chest-length beard, it was almost like going back in time when Tseng took up his brush and began writing and painting, family members said.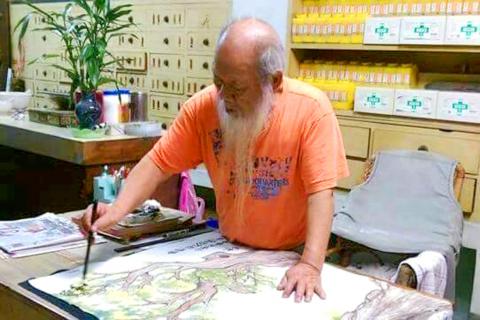 Tseng Wei-chao, a 78-year-old self-taught calligrapher and painter, paints a tree on Friday last week. Tseng has just finished a handwritten autobiography that took him the past two years to complete.
Photo: Lin Yi-chang, Taipei Times
A little more than two years ago, Tseng began his autobiography in the hope that the future generations of his family would have a greater understanding of their ancestors' lives over the past 70 years.
Asked about his choice of calendar paper, Tseng laughed and said: "We have an abundance of calendar paper at home and it was quite convenient, as you can tear down a page and start writing at any time."
He would glue the separate pieces together and eventually it became a scroll, Tseng said.
There are eight long chapters in the autobiography, while the shorter scrolls were made up of 13 or 14 pieces of calendar paper, Tseng said, adding that the longest scroll is 6m in length.
In the chapter dedicated to his marriage, titled Forever Man and Wife, Tseng described the difficulties his wife faced after marrying into his family and wrote: "I could only repay the several decades of her suffering by giving her all my love while I am still alive."
"I joined the navy; I followed in my father's footsteps by becoming a Chinese medicine practioner; I served my country and honored my parents, but my wife and children suffered many difficulties because of it," Tseng said, adding that the chapter on his marriage was the longest he had written as he felt indebted to his wife.
Tseng has also written a biography of his father, which includes details about his father's motto: "Anything is possible, as long as you like it," in a chapter titled My Life.
The scrolls were passed to Tseng's daughter-in-law, Chang Tsui-yao (張翠瑤), to be proofread and typed up, but Chang said after reading the scrolls that it was best to keep the document as it was.
"It gives the document more meaning," Chang said, adding that the scrolls must be kept as a family heirloom.
Tseng's latest project is to document the dwindling collection of bishop wood and black pine trees that were planted in Taitung during the Japanese colonial era.
This year, he began visiting all of the century-old trees in the area and painting them, he said, adding that he felt it was his duty to leave a record of the aging trees.
Comments will be moderated. Keep comments relevant to the article. Remarks containing abusive and obscene language, personal attacks of any kind or promotion will be removed and the user banned. Final decision will be at the discretion of the Taipei Times.