INTERVIEW: Taiwanese history needs space, collector says
NEW HOME: Lin Yu-fang, who donated his historical collection, said young people were paying more attention to Taiwanese history, but public museums still largely ignored it
"Taiwan cannot not be found among the collections of the National Museum of History in Taipei, nor is there Taiwanese history in the collections of the National Museum of Taiwan History," said Lin Yu-fang (林于昉), founder of the recently closed-down Formosa Vintage Museum Cafe (秋惠文庫) in Taipei's Daan District (大安), in a recent interview with the Liberty Times (the Taipei Times' sister paper).
The cafe, which showcased the nation's history through Lin's collectibles that were displayed throughout the shop, closed on Sept. 30.
Lin, a former dentist in Japan, said he chose to quit a teaching job in Japan and return to Taiwan in 1998 as "the motherland beckoned."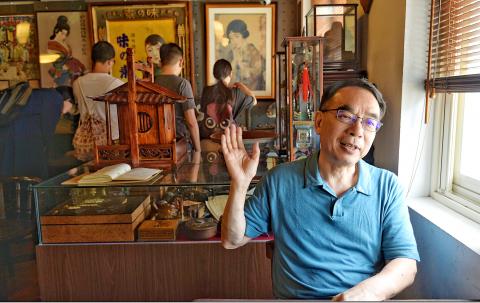 Lin Yu-fang, founder of the Formosa Vintage Museum Cafe in Taipei's Daan District, speaks during an interview at the cafe in Taipei's Daan District on its closing day, Sept. 30.
Photo: Chang Chia-ming, Taipei Times
After his return to Taiwan, Lin said that when friends visited Taiwan from overseas, they would ask him to take them on tours to "museums with Taiwanese characteristics."
It was then that he discovered that public museum exhibits were China-centric, and Taiwan's historic artifacts and history were nowhere to be found in Taipei, Lin said.
The discovery made him wish to learn the history of the land so he could better display the glory of Taiwan to foreign friends, he said, adding that that simple thought had started him on the irreversible track of 20 years of collection.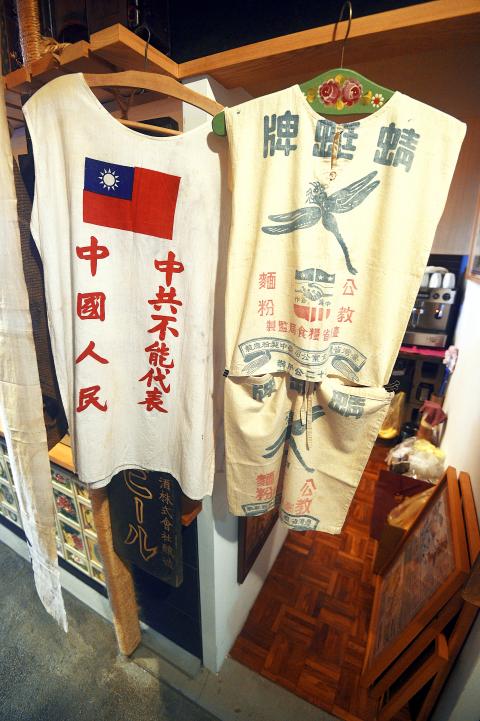 Old clothes made of political banners and flour bags are displayed at the Formosa Vintage Museum Cafe in Taipei's Daan District on Sept. 19.
Photo: George Tsorng, Taipei Times
"Collection is a curious thing and sometimes it is the item that finds you," Lin said, recalling his visit to the National Palace Museum in 2003 for the Ilha Formosa — the Emergence of Taiwan on the World Scene in the 17th Century exhibition and how he was enamored with the piece Generic paintings of Taiwan's Aboriginal peoples (番社采風圖).
Several months later, an auctioneer carried the very same piece to his house, as it was well-known in the auctioning sector that Lin was "willing to take anything that is related to Taiwan."
Lin's willingness to purchase any and everything related to Taiwanese culture, history and society has brought over 10,000 pieces together in his warehouse.
Once he had amassed enough for an exhibition, he said he started opening up his warehouse to private tours for his friends, but soon became bothered once more.
Lin said he simply could not accept that Taipei, being the capital of the country, did not have even one museum or exhibition regarding Taiwanese history.
"It is a failure of education when local residents are not concerned about local history," Lin said, adding it was then that he decided to make his collection public.
"History should not be locked in a warehouse, and these pieces of art and culture should be in closer contact with people," Lin said.
Taking a character each from the names of his father and mother, Lin seven years ago established the museum on Taipei's Yongkang Street, next to dumpling chain Din Tai Fung.
When they entered the former museum, visitors would be immediately greeted with the many drawings reflecting the early ages of Taiwan's development, ranging from the first Chinese settlers to paintings of Taiwan under Dutch and Spanish rule, Lin said.
Lin said he also collects other relics, such as propaganda from the Nationalist government after it took over the island from Japan, adding that these collections served to record Taiwanese history under its many different rulers.
The goal was to collect and exhibit historic records of everything that had happened in Taiwan through the ages, and the most ancient item he had was an official document dating back to the rule of Emperor Shunzhi (1638-1661) of the Qing Empire openly declaring Cheng Cheng-kung (鄭成功), also known as Koxinga (國姓爺), to be a rebel and ordering military action against Cheng.
Cheng, whose father supported Zhu Jinjian, the claimant to the Ming throne at the time, founded the Kingdom of Tungning on Taiwan after defeating the Dutch. Taiwan would not fall under Qing rule until 1681.
The Formosa Vintage Museum Cafe also collected souvenirs and mementos from private companies, as well as registered marks and plaques from the then-Taiwan Tobacco & Liquor Public Sales Depot and the organization that later became Taiwan Power Co.
During the highly politicized transition from Japanese colonial rule to the Nationalist government, state-owned businesses did not pay much attach great value to documents or paperwork from the Japanese era, Lin said, adding that he had bought most of these documents from second-hand bookstores.
While he was reluctant to part with his collection, Lin has either donated or loaned his collection, which is estimated to value NT$1 billion (US$32.9 million), to the National Museum of Taiwan History in Tainan.
Lin said he is hopeful, as a growing number of young people are now paying attention to their own history and culture, but added that he is still saddened about the complete absence of Taiwanese history from public museums such as the National Palace Museum.
"I truly wish that the government would give Taiwanese cultural relics a place," Lin said.
Comments will be moderated. Keep comments relevant to the article. Remarks containing abusive and obscene language, personal attacks of any kind or promotion will be removed and the user banned. Final decision will be at the discretion of the Taipei Times.