New Party mulls Lai complaint
SPLITTIST? Yok Mu-ming said the premier seems to be splitting the ROC's sovereignty, and he said he was giving the KMT a week to decide whether to join his party's lawsuit
The New Party has called on the Chinese Nationalist Party (KMT) to join it in filing a formal complaint against Premier William Lai (賴清德) for sedition after he said he is a "political worker who advocates Taiwanese independence."
Lai made the remark on Tuesday during a question-and-answer session at the Legislative Yuan in Taipei when asked to comment on China's Taiwan Affairs Office spokesman Ma Xiaoguang's (馬曉光) comment that cross-strait relations are not state-to-state relations.
New Party Chairman Yok Mu-ming (郁慕明) said Lai's statement was "very mysterious."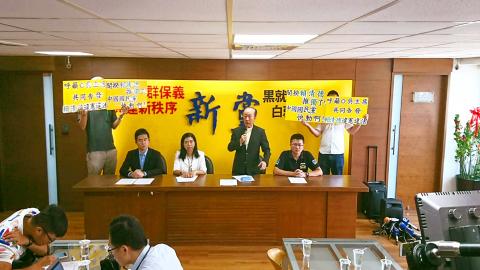 At a news conference in Taipei yesterday, New Party Chairman Yok Mu-ming, third right, calls on the Chinese Nationalist Party (KMT) to join it in filing a formal complaint against Premier William Lai for sedition.
Photo: Chen Yu-fu, Taipei Times
As head of the Executive Yuan, Lai is the highest executive authority of the Republic of China (ROC), Yok said.
"[If he says] Taiwan is already independent and its current name is the Republic of China, does this mean it will later be called the 'Republic of Taiwan?'" Yok asked.
The New Party seeks eventual unification of the two sides of the Taiwan Strait, Yok said, adding that he is a "political worker who advocates a 'strong China.'"
The party will seek to bring a sedition case against Lai before the Control Yuan for "splitting the sovereignty of the Republic of China on his own," Yok said.
The KMT should join the New Party in filing the complaint, even though he recently said that his party was trying to part ways with the KMT because the KMT has failed to speak up about unification.
"However, the KMT is opposed to independence just as the New Party is. On this point we should join hands," Yok said.
The name "Chinese Nationalist Party" is a good name, Yok said, adding that KMT Chairman Wu Den-yih (吳敦義) should lead his party in opposing Lai on the issue of independence.
"We will give the KMT one week. Next Monday they can give their answer to the New Party," Yok said. "If they are willing to file a complaint against Lai, we are willing to follow their lead."
Asked about Yok's statements, Executive Yuan spokesman Hsu Kuo-yung (徐國勇) said: "Is the ROC not an independent, sovereign state?"
As for the New Party filing a complaint or charge against Lai, "you cannot be immune to lawsuits. If someone sues you, you have to go along with the case. It is the New Party's right to sue others if they so choose," Hsu said.
"Nevertheless, we are a sovereign, independent nation. It would be hard to refute this point," the spokesman said.
"Every political party should accept the fact that this is an independent, sovereign nation, the name of which is the Republic of China," he added.
Additional reporting by Lee Hsin-fang
Comments will be moderated. Keep comments relevant to the article. Remarks containing abusive and obscene language, personal attacks of any kind or promotion will be removed and the user banned. Final decision will be at the discretion of the Taipei Times.