DPP legislator calls for old residence to be designated a cultural landmark
Democratic Progressive Party (DPP) Legislator Pasuya Yao (姚文智) yesterday called for a townhouse in Taipei believed to be the residence of former minister of national defense Yu Ta-wei (俞大維) to be designated as a cultural landmark to prevent it being demolished.
The property on Wenzhou Street, a modern Japanese-style house, has been zoned as part of an urban renewal project, and its current occupant, the widow of agricultural researcher Hsu Wen-fu (許文富), was in the process of moving out yesterday.
The building was a dormitory of Taihoku Imperial University during the Japanese colonial era, and the university is its current owner, Yao said.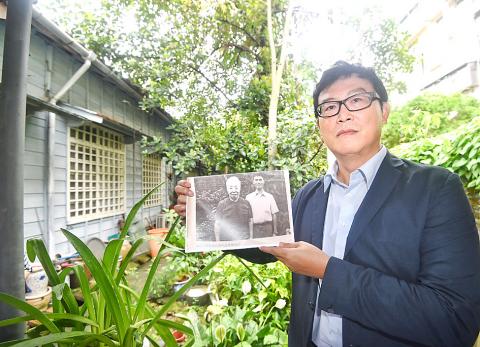 Democratic Progressive Party Legislator Pasuya Yao yesterday visits what he believes is a former residence of former minister of national defense Yu Ta-wei on Taipei's Wenzhou Street, calling on the Taipei City Government not to demolish the building.
Photo: Fang Pin-chao, Taipei Times
The school later became the National Taiwan University (NTU).
The Taipei Department of Cultural Affairs said the property was not Yu's former residence, but information Yao said he requested from the Ministry of National Defense and an interview he had with Yu's valet, General Lo Shun-te (羅順德), suggested that it was, he said.
Yu took over the house from his younger sister, NTU professor Yu Ta-tsai (俞大綵), when he was appointed defense minister in 1954 and lived there until 1970, when the university recalled the dormitory, Yao said, adding that the ministry built a house on Taipei's Guangfu N Road to accommodate Yu Ta-tsai afterwards.
The property had a side wing, which Yu Ta-wei purportedly used as a reception room, Yao said, adding that it was a common feature among residences that the government built for generals, which solidifies his theory that the house was once occupied by Yu Ta-wei.
Yao said that the DPP caucus has attached a high level of importance to the building's preservation, with DPP caucus whip Ker Chien-ming (柯建銘) voicing support for its preservation after inspecting the site.
During a cultural assets review in 2006, the department assessed more than 90 of the university's dormitories near the Gongguan area (公館) that were inhabited by renowned people, such as democracy pioneer Yin Haiguang (殷海光) and author Liang Shih-chiu (梁實秋), and decided to designate just a dozen of them as historic sites, Yao said.
He said that the university, which owns 75 percent of land in the urban renewal project, told the DPP caucus that it is unlikely to overturn the project, which has been under discussion for 10 years.
NTU secretary-general Lin Ta-te (林達德) said that although the school had expended a lot of energy on preserving the dormitory cluster, it did not believe that every dormitory should be retained.
Additional reporting by CNA
Comments will be moderated. Keep comments relevant to the article. Remarks containing abusive and obscene language, personal attacks of any kind or promotion will be removed and the user banned. Final decision will be at the discretion of the Taipei Times.