Lai's pay hike is backed by DPP, KMT lawmakers
The Democratic Progressive Party (DPP) and Chinese Nationalist Party (KMT) lawmakers yesterday backed the Executive Yuan's announcement that the wages of military personnel, civil servants and teachers would be increased by 3 percent in the next fiscal year, as well as its call for the private sector to follow suit by raising their employees' wages by 4.5 percent.
DPP Legislator Lo Chih-cheng (羅致政) said Lai's new policy is not only in line with the DPP's stance on the issue, but would also serve to boost the morale of teachers, civil servants and military officials.
The DPP believes that expenditures for retirees should be reduced while the salary for those now employed should be raised, Lo said.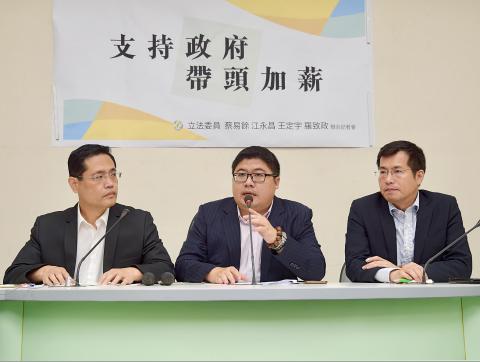 From left to right, Democratic Progressive Party lawmakers Chiang Yung-chang, Tsai Yi-yu and Lo Chih-cheng yesterday in Taipei give their backing to Premier William Lai's proposal to give public servants and military personnel a 3 percent pay raise in the next fiscal year.
Photo: Huang You-cheng, Taipei Times
Lai's policies seek to challenge the "status quo," and despite many public employees and military personnel complaining the raise is too small, DPP Legislator Chiang Yung-chang (江永昌) said he believed the spirit of the gesture was more important than the policy itself.
DPP Legislator Wang Ding-yu (王定宇) said the nation's economy could support the additional expenditure of NT$18 billion (US$598.9 million) per year.
Taiwan enjoyed high income tax for four consecutive years and export income went "into the green" starting last year, "the result of hard work by both the former and incumbent premier," Wang said.
However, the Executive Yuan should be consider how such an expenditure will affect future administrations, Wang said.
All DPP legislators called on the corporate and industrial sectors, such as state-run companies or banks where the government holds a significant stake, to make good on their promises to match the pay rises.
Chinese Nationalist Party (KMT) Secretary-General Lin Wei-chou (林為洲) said his party was not against such a move as teachers, civil servants and military personnel have not received salary raises in many years.
The move would give public sector employees some sort of compensation and belief that the government had not given up on them, Lin said.
KMT Legislative Caucus Deputy Secretary-General Lee Yan-hsiu (李彥秀) said the immediate about-face on the wage raise by former premier Lin Chuan's (林全) successor might indicate that the decision was politically motivated and lacked professional deliberation.
Coupled with the basis for the pension cuts, which Lin Chuan had said were based on the "government's financial difficulties," it is evident that the decision made by President Tsai Ing-wen's (蔡英文) administration is more politically motivated than professional, Lee said.
The harm to military personnel, civil servants and teachers from the pension cuts will not be easily smoothed over by a pay rise of just 3 percent, Lee said, adding that Lai and his staffers might want to consult with professionals on whether the proposed salary increase would be enough.
Comments will be moderated. Keep comments relevant to the article. Remarks containing abusive and obscene language, personal attacks of any kind or promotion will be removed and the user banned. Final decision will be at the discretion of the Taipei Times.