Lai begins second day with protests
TRACKED DOWN: Migrant workers might violate an administrative act, which normally incurs a fine, but police have the power to hunt them like criminals, an advocate said
Premier William Lai's (賴清德) second day in office began with two consecutive labor rights protests outside the Executive Yuan yesterday morning, with one asking the government to allow blue-collar migrant workers the right to switch employers and the other demanding that the government not side with businesses if it changes the regulations regarding working hours.
The Taiwan International Workers' Association (TIWA) and other groups advocating the rights of migrant workers urged Lai to investigate the death of a 27-year-old Vietnamese worker surnamed Nguyen.
The "runaway" foreign worker was shot nine times at close range by police after allegedly attempting to steal a police car and throwing stones at police.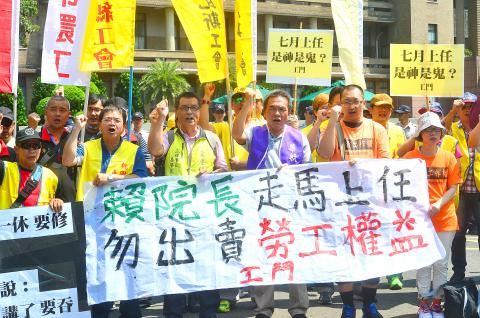 Members from various labor groups call on Premier William Lai to protect workers' rights and not to emulate the policies of former president Ma Ying-jeou during a demonstration outside the Executive Yuan in Taipei yesterday.
Photo: Wang Yi-sung, Taipei Times
The case has many unanswered questions, they said, adding that the police should release the footage showing how the officers handled Nguyen on Aug. 31 for his allegedly illegal acts.
While Lai ran away from his unfinished term in Tainan unscathed and became premier, the fate of the runaway worker was to be shot nine times, the advocates said.
The advocates shared a petition written by Nguyen's father, urging the government to find out the truth and prevent similar incidents.
The group called for amending the Employment Service Act (就業服務法) to allow blue-collar migrant workers to switch employers.
People should ask why the workers are running away in the first place, association representative Hsu Wei-tung (許惟棟) said.
Migrant workers often pay a fee of about US$5,000 to labor brokers to work in Taiwan, he said.
They cannot pay the entire fee up front and have to work one to one-and-a-half years just to pay off the debt, Hsu said, adding that the act prevents migrant workers from freely choosing employers.
"This has caused some of the workers to put up with unfair treatment as much as they could and run away when they cannot stand it anymore," he said.
The government's procedure for classifying a migrant worker as a runaway is problematic, Hsu said, adding that a person can be classified as a runaway worker when their employer files a report with the police or the administrative agency in charge, without any further investigation by the authorities.
Once classified as a runaway worker, it would take workers a long time and a complicated process to redress the status, he said.
Migrant workers might violate an administrative act by becoming untraceable, which would invalidate their visas, he said, adding that the situation is different from committing a crime.
"People violating an administrative act, such as running through a red light or littering, need to pay fines. Police would not hunt down these people with guns," he said.
However, police have the authority to track down runaway workers as if they were criminals, because of the stereotypical image society has of migrant workers, particularly those from Southeast Asia, Hsu said.
Meanwhile, Labor Struggle, a coalition of labor unions and student groups, asked Lai not to ignore workers' rights if the Cabinet considers amending regulations that give workers "one fixed day off and one flexible rest day" each week.
The regulations do not significantly decrease the nation's average work hours, they said, adding that the Executive Yuan should stipulate a national holiday act to restore previous national holidays and to further reduce work hours.
The changes to work regulations proposed by businesses are meant to encourage employees to make extra money by working overtime, they said.
The government should instead address the issue of some workers not benefiting from the regulations, as some employers avoid paying overtime by promising employees compensatory holidays, they said.
Comments will be moderated. Keep comments relevant to the article. Remarks containing abusive and obscene language, personal attacks of any kind or promotion will be removed and the user banned. Final decision will be at the discretion of the Taipei Times.