Cabinet to focus on economy, security, culture: Lai
Economic, public security and cultural policies should be the government's priorities, Premier William Lai (賴清德) said yesterday as he paid separate visits to former premiers Su Tseng-chang (蘇貞昌) and Yu Shyi-kun to seek advice on running an administration.
After a closed meeting with Su in Taipei, Lai said Su told him that the priorities of the new Cabinet should be economic development and public security.
"The government has to do everything it can to develop the economy and it has to listen to advice to give people a good quality of life," Lai quoted Su as saying.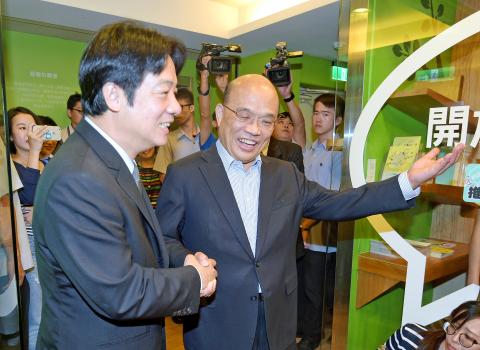 Premier William Lai, left, visits former premier Su Tseng-chang in Taipei yesterday.
Photo: Chang Chia-ming, Taipei Times
The priority for law enforcement is to crack down on drugs, Lai said, adding that Su shared his experience of combating drug trafficking during his premiership and when he was Taipei County commissioner.
Su told him that, as the head of the Cabinet, the premier has to set goals and show resolve while monitoring the government's performance at all times, Lai said.
"I am glad for the country that President Tsai Ing-wen (蔡英文) had the vision to tap Lai as the premier," Su said. "Lai's achievements, determination and performance are widely recognized and I expect the new premier to put his skills to use leading the country."
Premier William Lai, left, visits former premier Yu Shyi-kun in Taipei yesterday.
Photo: Peter Lo, Taipei Times
Yu said his suggestions were of limited use to Lai as he has left the office 12 years ago, adding that he had confidence in Lai, who has all-round experience in the legislature and in governance.
Having previously urged Lai to run for New Taipei City mayor in next year's municipal elections, Yu said he made the suggestion because Lai was a worthy candidate and he did not know the president had selected him to lead the Cabinet.
"Some media took the opportunity and claimed that I was holding him back from taking over the Cabinet. It was absolutely untrue," Yu said.
Lai said Yu told him to prioritize economic development and cultural policy.
Yu told him to make economic development his top priority and to personally chair various economic meetings to display the government's determination to boost the economy, Lai said.
He said Yu also told him to attach importance to cultural policies to highlight Taiwanese identity.
The Cabinet has to set clear goals for the administration and make sure the public understands those goals, and the Cabinet has to learn to keep up with industrial trends, Lai quoted Yu as saying.
Lai said he would like to seek advice from former Chinese Nationalist Party (KMT) premiers if he would have the chance.
Lai is to pay visits to the different legislative caucuses today to seek support from lawmakers, as is traditional Cabinet practice, Executive Yuan spokesman Hsu Kuo-yung (徐國勇) said yesterday.
Although most of former premier Lin Chuan's (林全) Cabinet officials are staying on, the Cabinet reshuffle is not a minor restructuring, Hsu said, adding that the three top Cabinet officials — the premier, vice premier and Executive Yuan secretary-general — have been replaced.
Hsu disputed criticism that it was Tsai instead of Lai that had controlled the Cabinet appointments.
All Cabinet members were selected by Lai himself, Hsu said.
Tsai and Lai have several channels at their disposal to communicate about affairs of government, but routine weekly meetings as were held between Tsai and Lin might not continue, Hsu said.
Comments will be moderated. Keep comments relevant to the article. Remarks containing abusive and obscene language, personal attacks of any kind or promotion will be removed and the user banned. Final decision will be at the discretion of the Taipei Times.